Yushchenko told what Ukraine lacks to defeat Russia
Former President of Ukraine Viktor Yushchenko and former Prime Minister of this country Yulia Tymoshenko spoke about the current situation in the country. In an interview with Ukrainskaya Pravda, Yushchenko talked about why Ukraine has not yet defeated Russia.
According to the "orange" president, Ukraine's loss of a part of its territories is related to the disunity of the Ukrainian population, the lack of a popular spirit and the numerous mistakes of the country's leadership.
At the same time, Yushchenko expressed doubt that today Ukraine is "at war" with Russia.
From the interview:
Russia in 2014 year - the first trading partner. And in 2015, in 2016, in 2017. You specify, do you really fight? Are you really going to vacate the territory?
According to the ex-president of Ukraine, the current Ukrainian leadership does not have a clear action plan for "victory over Russia", plus the people of Ukraine are not taking any measures.
Yushchenko:
In this state, there is no victory plan. Because you do not behave like a people who demand victory. You are already slaves.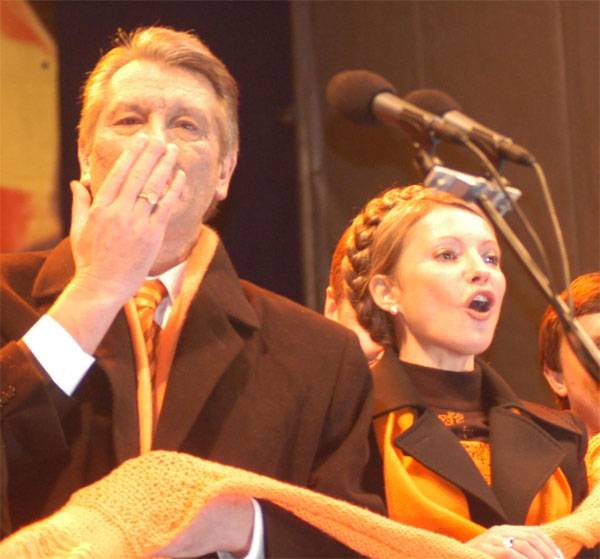 Yulia Tymoshenko actually continued carrying out "slave" parallels and compared the current Ukrainian society with the slaves of Ancient Egypt. According to Tymoshenko, the slaves of Egypt at the time of Tutankhamen had earnings more than those that Ukrainians have today. Thus, the People's Deputy of the Verkhovna Rada and the leader of the presidential electoral rating commented on the decision of the country's authorities to buy apples from farmers at a price of 0,3 UAH per kilogram. Tymoshenko added that because of the current economic policy of the Ukrainian authorities, Ukrainian citizens are forced to go abroad to earn money and develop the economies of other countries.
http://www.globallookpress.com