Poroshenko found a way to "expel" the Russian fleet from Crimea
Ukrainian President Petro Poroshenko has finally found a way to get rid of the Black Sea
fleet
and expel him from the Crimea. According to Poroshenko himself, for this it is necessary to amend the constitution of Ukraine and remove from there the "constitutional foundations" that allow the Russian fleet to be on the "Ukrainian territory".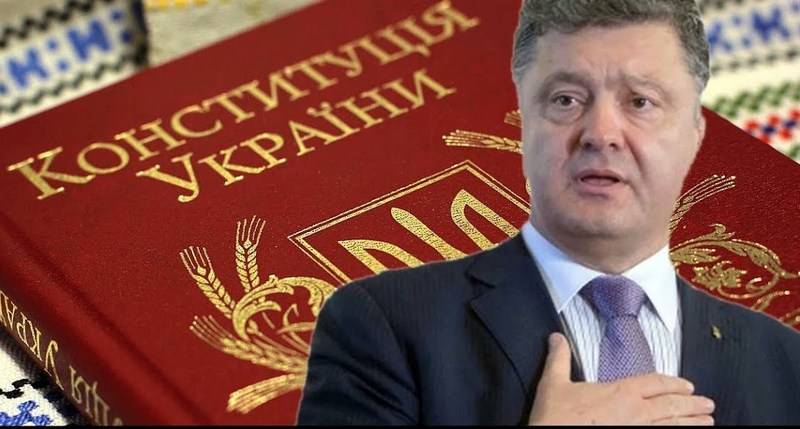 On his Twitter page, Poroshenko wrote that these very "fundamentals" giving the right to the Russian fleet "to temporarily be in the Ukrainian Crimea" were previously "dictated by the Kremlin." Pyotr Alekseevich believes that the changes to the "Ukrainian constitution have long been overdue," especially now it is necessary to fix in the main document of the country "the aspiration of Ukraine to the European Union and NATO".
As previously reported, the amendments to the Constitution of Ukraine have already been prepared and it is expected that the Verkhovna Rada, to which they will be presented after the summer holidays of deputies, will mostly support Poroshenko. This is exactly what the Ukrainian president hopes for, saying that he will not allow anyone "to lead Ukraine astray from the path of European integration and membership in the North Atlantic Alliance."
Recall that Russia back in 2014 year, denounced a number of bilateral Russian-Ukrainian treaties, including the agreement on the division of the Black Sea Fleet. And on the other hand, what relation can the Constitution of Ukraine have to the Russian territory and the Russian fleet? No So all these "strained attempts" Poroshenko nothing but laughter, can not cause. While Petr Alekseevich threateningly puffs up his fat cheeks, Russia is building new roads and infrastructure in the Russian Crimea and updating its Black Sea fleet.
http://novosti-ukrainy.com/