The latest BTR-87 has increased firepower compared to serial wheeled armored vehicles and is capable of destroying the most modern
Tanks
, writes
Rossiyskaya Gazeta
.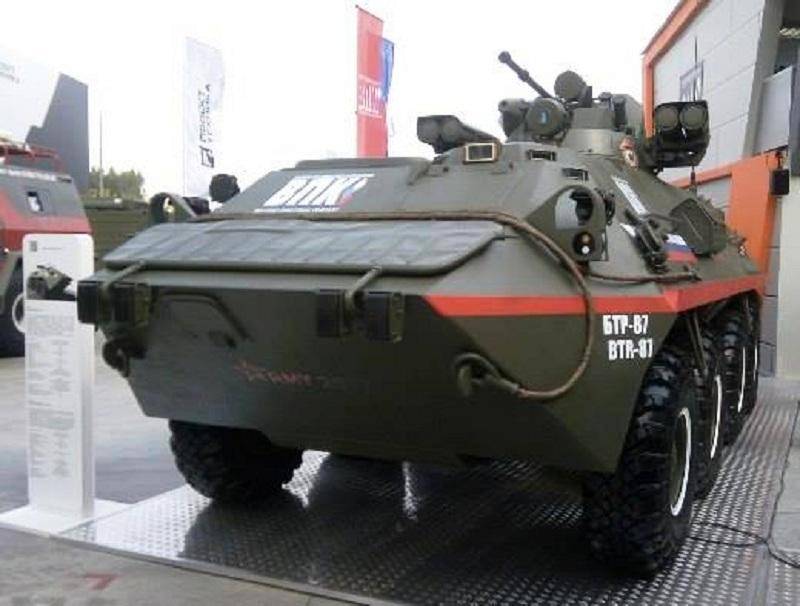 According to the newspaper, managed
weapon
on Russian armored vehicles appeared in 1966, when the BMP-1 with the Malyutka complex was launched into mass production. At the same time, neither Soviet nor foreign designers were in a hurry to arm wheeled armored personnel carriers with missiles. True, there was one exception: at the time of the Warsaw Pact, the Polish SKOT-2AR received for some time an ATGM 9М14М, but later this idea was abandoned.
After the collapse of the USSR, the BTR-90 with the combat compartment of the BMP-2 became the first wheeled armored vehicle. At first, it was equipped with the Konskont-M ATGM, then received the most modern complex, the Kornet. The machine was put into service, but not mass produced.
"Cornets" are also available in the arsenal of the promising K-17 "Boomerang". But if the armored vehicles created on the basis of an average unified platform can be designated by the term "new direction", then the BTR-87 is an evolutionary development of the BTR-80 and BTR-82 armored personnel carriers known in many countries. Its main difference from its predecessors - the front location of the engine compartment and exit from the stern.
The machine is armed with 30-mm cannon, 7,62-mm machine gun and the above-mentioned "Kornet", the missiles of which are capable of hitting the enemy at a distance of 5,5 km (new versions are already striking at 10 km).
The weight of the armored vehicle is about 16,5 tons, the maximum speed is 90 km / h (afloat - up to 14 km / h). Power reserve - 800 km. Capacity - 10 people.