Perfect technology for the perfect soldier. Part of 1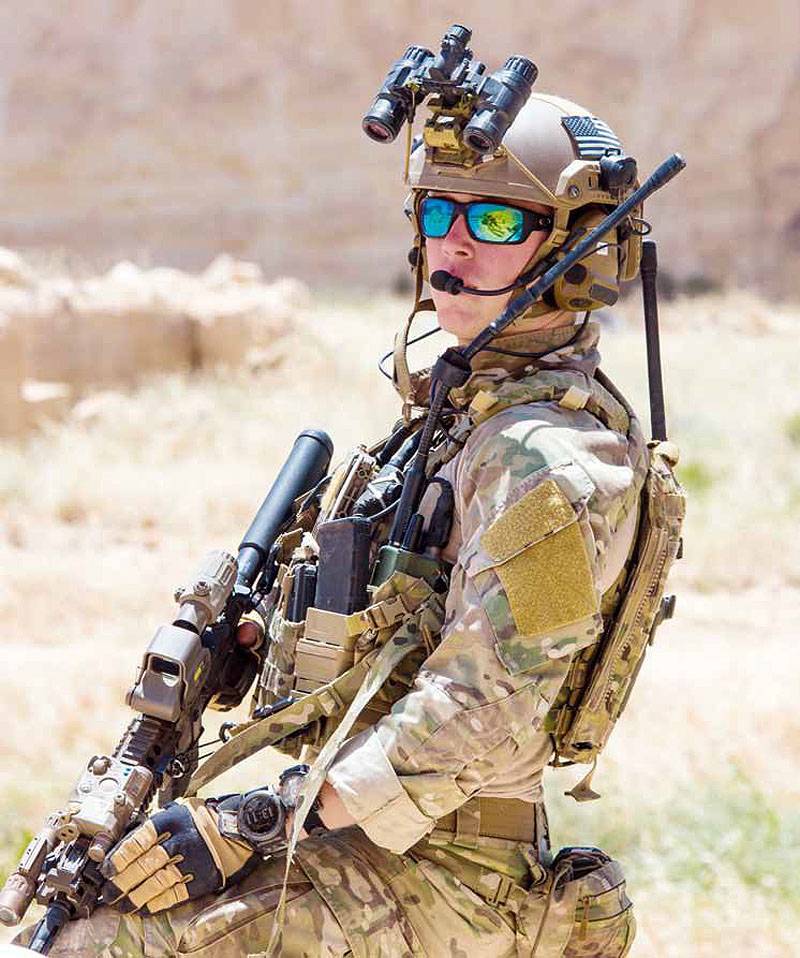 Combat superiority for the modern soldier
As the increasingly complex combat space places more and more new tactical demands on units, the armed forces and industry are striving to develop next-generation technologies that could provide tactical superiority over almost equal opponents with significant combat capabilities.
New generation technologies aimed at providing the modern soldier with the most effective means of fulfilling the entire range of operational capabilities are continuously being researched, developed and introduced into the troops in order to optimize firepower, survival and accuracy at all tactical levels, including the lowest ones.
The list of these technologies is huge, ranging from communication systems and end-user devices to autonomous support vehicles and target acquisition and capture systems that reduce the physical and cognitive load on a modern soldier.
According to the NATO doctrine, modern operational space is defined as "a space that includes all levels of complex conflict in difficult conditions, including disputed sea areas, where information should be considered as
weapons
».
Modern armed forces are facing almost equal and powerful opponents, for example, China, Iran, North Korea and Russia, who tirelessly increase their capabilities in various fields. As a result, the armed forces must be prepared not only to combat traditional and existing threats, but also to counter new threats associated with hybrid fighting, which include both kinetic and non-kinetic means.
These threats are of particular concern to dismounted melee units and special operations forces (MTRs). However, the solution here may be not only the upgrade of weapons, hardware and software, but also the development of the principles of combat use and tactics, methods and methods of warfare. All this should be combined to provide combat groups with a range of capabilities to counter a wide range of threats in the information and cyber fields, as well as in the field of electronic warfare.
For example, the Russian armed forces successfully apply the concept of "Military actions of a new generation" (their own version of hybrid warfare). Its implementation was perfectly demonstrated during the hostilities in Ukraine and Syria, where advanced ground units were supported by carefully prepared information operations.
It is this activity that led the armies of many countries to identify and develop a number of new technologies to support small combat groups (company level and below), which could be assigned the task of conducting operations in a ban on access / blocking zone, where GPS satellite signals and other communication signals can be easily blocked.
Combat experience in Eastern Europe, especially in Ukraine, has shown that coalition forces operating in close proximity to Russian forces experience various problems in their communications networks.
The Military Attaché of Ukraine in Great Britain said that electronic warfare remains an "attractive" option for the Russian forces operating in eastern Ukraine. "EW is a highly effective variant of a non-kinetic attack that is quite difficult to track down," adding that coalition forces in this region know very well what is killing communication media in the VHF bands. UHF and GSM networks.
For example, for unknown reasons, "radio traffic suddenly stops", while also regularly disrupting the operation of unmanned aerial vehicles and ground mobile
robots
, mostly relying on GPS signals.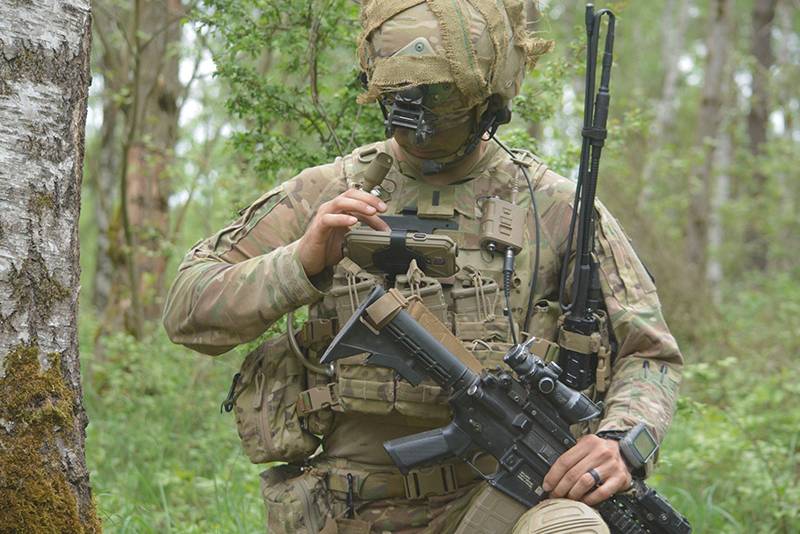 During exercises in Germany, the platoon commander of the 173 airborne brigade uses the end-user device (tablet) to transmit information to the company commander via a tactical network
According to Getac spokesman Jackson White, the armed forces are increasingly investing in C4ISTAR technologies (Command, Control, Communications & Computers Intelligence, Surveillance, Target Acquisition & Reconnaissance - command, control, communications, computers, information gathering, surveillance, target designation and reconnaissance) to support the "strategy of asymmetric warfare and digitization". He cited his company's X500 server and laptop as examples, as well as the latest end-user device, the rugged MX50 tablet. released in 2017.
This 15 inch-sized tablet provides an exchange of large amounts of data for 3D mapping applications and for other operational management and situational awareness programs. A mobile school-sized case can store up to 6 a terabyte of data, process and distribute data from land and air platforms, providing advanced units with capabilities for "analyzing data about the platform, the task being performed and other parameters to ensure operational stability in difficult combat conditions ".
The X500 tablet is distinguished by a common basic architecture (Generic Base Architecture), which allows integration into existing and future C4ISTAR networks. The device runs on Windows 10 operating system. provides data protection, authentication, and physically secure startup. If the tablet falls into the hands of the enemy, it can be disabled remotely using Mobile Device Management software.
The military at the lowest echelons widely use smartphones and tablets, including the Getac MX500
Denied connection
The need for secure messaging in the entire contested and congested combat space remains an essential and necessary condition for the armed forces seeking to perform tasks effectively in current and future operational conditions.
According to some experts, today's next-generation communication systems should not only have enhanced protection from jammers (this is the example of Ukraine), but also provide b
о
better data exchange rate in order to give soldiers the ability to support the full range of C4ISTAR capabilities.
Such needs led to the emergence and distribution of next-generation programmable radio stations. They are able to accept many special communication protocols and provide communication in the most difficult conditions.
In addition, many more advanced armed forces seek to expand their influence and establish global cooperation. This requires higher levels of communication system interaction with local allies, who do not have high-tech programmable radio systems and tactical radio stations available to "Western" armies.
Michael Macferron of the US Marine Corps 1 Division, noting the need to improve the management of communications signatures for small battle groups, warned: "We must take into account electromagnetic interference and the signals that we send. If you emit signals, you are dead. "
"How to act in such a space? - asked Macferron, while pointing out the importance of shutting down the enemy's communication systems while protecting the communications of the Marine Corps. "If we operate in a similar environment, can we protect our systems from more advanced threats?" How do we prepare and learn to work in this setting? "
MANET (Mobile Ad Hoc Network) - wireless decentralized self-organizing networks consisting of mobile devices. Each such device can independently move in any direction and, as a result, often break and establish connections with neighbors. Such networks, independent of satellite constellations, are becoming increasingly popular. This technology is gradually spreading in infantry units and in the SSO, providing personnel with self-restoring and interference-resistant communication systems.
Jimi Henderson from Silvus Technologies has his point of view on the new requirements of modern operational space. They provide for the ability of special forces and infantry, directly in contact with the enemy, as well as the UAV and HMR, to act in conditions of opposition, when communication channels with high probability can be silenced.
For example, the ability of personnel and remotely controlled systems to counteract interference is improved by using dual-band radio stations that support two radio frequency bands (for example, 2 and 4 GHz) in a single physical device. According to Henderson, such a solution allows a modern soldier to quickly and easily switch between alternative frequencies in order to avoid sources of interference without any need for hardware refinement.
"This is about the knowledge of the spectrum," he explained, noting that existing radio systems could then "overlook" problems with characteristics and interference. Henderson also noted that tactical radio systems should work inside tunnel buildings and in underground structures where communications in direct visibility can easily be broken. That is why the ability to communicate outside the line of sight between operators and unmanned vehicles remains a critical operational requirement.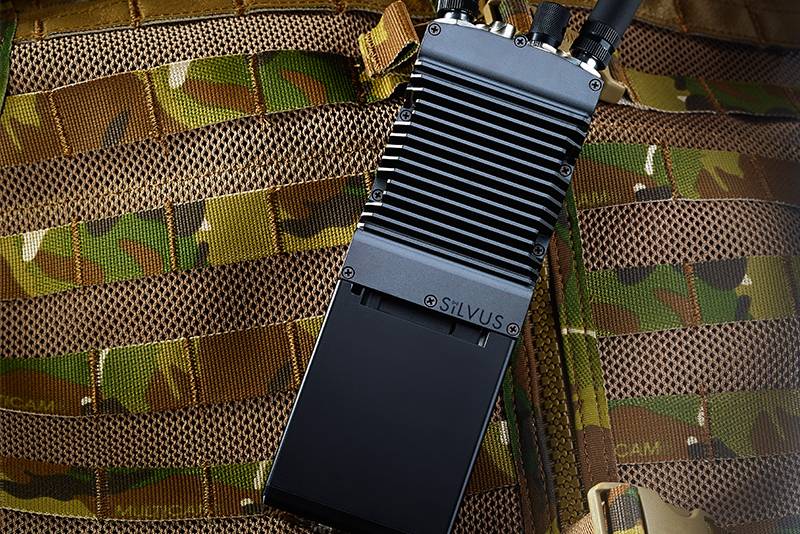 Units conducting operations in difficult conditions of urban development or underground communications benefit from using devices with MANET and MIMO technologies, such as this handheld radio station Streamcaster 4200
These solutions include the StreamCaster family of radio stations from Silvus Technologies. Optionally, they support the connection of transmitting directional antennas 2x2 and 4x4, providing signal amplification at 2-3 dB and 5-6 dB, respectively. Therefore, they are well suited for "extreme situations where subscribers move quickly or are out of line of sight, while the length and separation of antennas do not matter," Henderson said.
Radio Streamcaster 4200 2x2 with MIMO technology (multiple-input multiple-output - spatial coding of the signal, which allows to increase the channel bandwidth, in which data transmission and reception of data is carried out by systems of several adaptive antennas with weak correlation), being the smallest system in the portfolio the company is able to provide the necessary capabilities of the SSO and infantry units. A radio station with an output power up to 4 Watts is available in a "hardened manual" version; the low probability of jamming is provided by the "push-to-talk" mode (only at the touch of a button) and dual-band communication.
According to Henderson, Streamcaster radios are capable of supporting up to MANET 380 nodes on the same network. This allows you to efficiently transmit signals from one node to another automatically, which reduces any dependence on GPS and satellite communications signals in general.
The Streamcaster 4200 radio can also be connected to Wi-Fi and GPS devices via an optional external connector. Each system can store up to 128 GB of data in internal memory. Henderson said that a network of such radios could achieve "ultra-low latency, on average 7 milliseconds per transfer between nodes."
In accordance with the current needs associated with the performance of combat missions in all C2D2E scenarios (Communications Degraded / Communications Denied Environment - difficult conditions for communication equipment), more and more specialized communication MANET platforms available for the armed forces appear on the market. For example, the alternative programmable radio TW-950 Shadow from TrellisWare Technologies. She was introduced in May 2017 at the SOFIC Special Forces Conference.
Like the Streamcaster, the Shadow handheld radio is capable of operating in the extended radio frequency range. This allows for faster data transfer rates and, according to Mat Fellows of TrellisWare Technologies, "watch various high-definition videos and have full interoperability with devices running the proprietary TSM-X protocol."
The Shadow device weighs 312 grams, operates in the 225-450 MHz and 1250-2600 MHz frequency bands and has a 2 Watt transmit power. The radio station supports up to 16 channels with a delay of "less than a second" and can operate under water at a depth of up to two meters.
Fellows also confirmed that various MTR units are already using different types of MANET-compatible radio systems, in particular, in the fight against terrorism in populated areas and in the absence of a GPS signal.
The company Persistent Systems is promoting its MPU5 system, the main component of which is the radio station 3x3 with MIMO technology. According to Herbert Rubens, director of Persistent Systems, "It generates transmit power up to 6 Watts, providing a network with a secure IP (Internet Protocol) in all conditions and data transfer rates in excess of 100 megabits per second."
MPU5 also includes an integrated video encoding / decoding device capable of distributing high-resolution real-time video streams; Android operating system, which runs software ATAK; as well as 16 radio channels with IP traffic transfer (RoI).
"MPU5 increases the level of control of the situation, contributing to the successful completion of the task, and also improves the overall security. In addition, the MPU5 system is an extremely effective solution from an economic point of view due to the realization of many possibilities in one commercial product, "Rubens explained his company's position.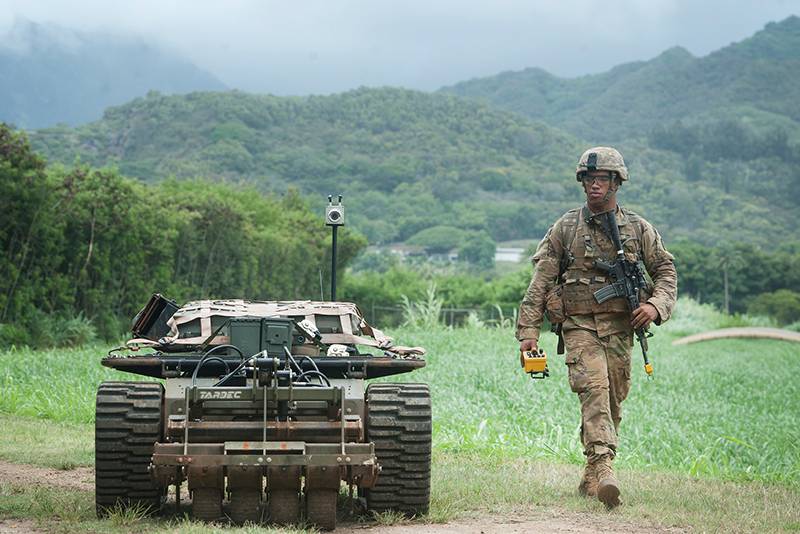 During the exercises, the soldiers of the American army, walking along a given route, controls the ground robot.
Autonomous support and artificial intelligence
MANET-compatible radio systems are increasingly used to communicate with autonomous platforms, including UAVs and HMRs. They are actively deployed in operational scenarios to reduce the load on the personnel of the SSO and infantry units.
The world market currently offers a myriad of various ground-based robotic systems or NMR. This includes small-sized tracked NMRs capable of neutralizing unexploded projectiles and improvised explosive devices, as well as other information collection tasks. Also on the market there are a number of large wheeled platforms used for the carriage of goods and for combat support. NMR can even provide full-time fire support to dismounted assault groups and special forces.
New technologies now allow the use of NMR in increasingly complex combat scenarios. In particular, there is an increased need for NMR to perform tasks in built-up areas and underground communications.
Industry sources claim that this technological expansion was aimed not at the design and development of completely new platforms, but at introducing open architecture standards for simplified integration of the payload and controllers with automatic configuration. Of course, trade-offs between size, mass and power are needed here, and besides, concerns remain about the current levels of autonomy across the entire spectrum of HMR.
According to the representative of Applied Research Associates Matthew Fordham, only now the modern soldier began to benefit from autonomous technology.
For more than a decade, the US Department of Defense has been striving to make wide use of all-terrain NMR for military tasks, but until recently their development was mainly determined by research projects.
"It was only in 2017 that the Ministry of Defense began to purposefully fund military applications by issuing a request for proposals for the route clearing system RCIS (Route Clearance Interrogation System) and the program for the SMET (Squad Multipurpose Equipment Transport level equipment) platform," he explained.
The US Army in December 2017 selected four participants for the SMET project: Applied Research Associates (ARA) and Polaris Defense (Team Polaris); General Dynamics Land Systems (GDLS); HDT Global; and Howe & Howe Technologies.
This program was named in the strategic document of the US Army Robotic and Autonomous Systems in March 2017, the short-term priority (to 2020 of the year) of the ground forces. The concept of Manned Unmanned Teaming (MUM-T) is to integrate combined robotic and autonomous capabilities with army units while maintaining the full functionality of the fighter.
The initial combat principles and SMET requirements applied to a vehicle that could accompany soldiers marching at 3 km / h speed up to 72 hours without refueling over a distance of more than 97 km. Ultimately, the device will have to work in three modes: autonomous, semi-autonomous and remote control.
The platform must carry a load of 454 kg and generate 3 kW parked and 1 kW in motion. Transporting an 454 kg will reduce the load on each soldier in the squad by 45 kg. By reducing the load, the platform will allow the Infantry Brigade Combat Team infantry brigade groups to travel long distances, while the generation of electricity by this platform will allow you to charge equipment and batteries on the go.
The SMET platform is designed to perform various tasks, including the transport of ammunition, water, batteries and special equipment; C4ISTAR; and fire support.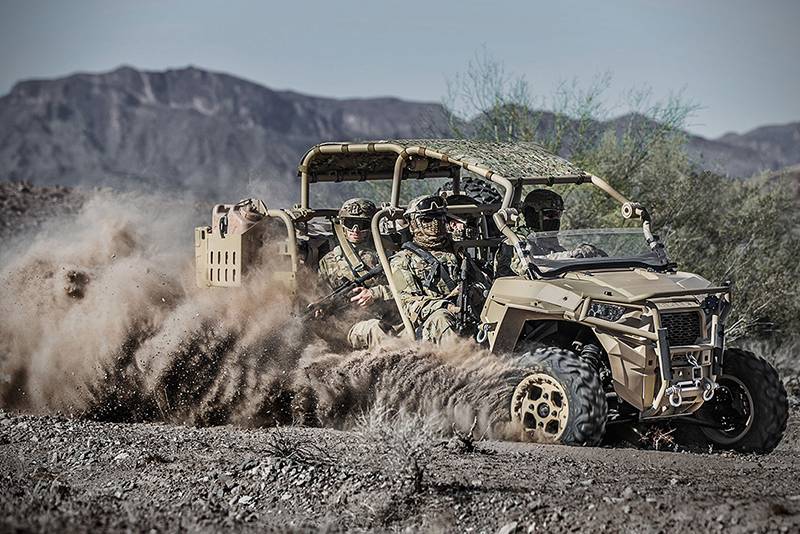 The Polaris MRZR X IS, proposed for the SMET program, is an optionally controlled autonomous platform, which is a further development of the Polaris MRZR all-terrain crew car.
It is expected that the Ministry of Defense will confirm the status of the SMET official program in the middle of next year. The US Army is considering purchasing up to 80 platforms after selecting the preferred lead contractor.
According to Fordham, the platforms and sensor technologies associated today with similar developments by NMR are mature enough for widespread use in support of a modern soldier and cost-effective enough for subsequent investments.
Referring to future problems associated with the booming development of NMR, Fordham called "absolute security" the most important element in any successful project of a robotic platform. The operation of the NMR must always be safe, without unintended movements or unexpected behavior.
"Only one security issue can put off the robotic process for years. Predictable platform operation is the key to success. First, security is always the most important challenge. Redundancy of controllers, safe software, thorough analysis, the ability to control and test - all this is the basis for successfully achieving the required level of security. "
"Secondly, there are many problems with off-road robots. We do not have Google Maps, which show the best route, the rules of the road with signs like in commercial applications. But we have a lot of stones, trees, holes not marked on the map and a sharp change of relief, the system should solve all this in real time, "Fordham explained.
Applied Research Associates has teamed up with the Polaris company through the SMET program, proposing a solution based on the Polaris MRZR ATV crew vehicle (all terrain vehicle), which is already in service with the infantry and special units of the NATO countries and their allies. The MRZR X is a standalone, optionally managed MRZR ATV, designed to provide a smoother transition from manned to autonomous robotic systems.
The Modular Robotic Applique Kit (M-RAK) is installed on the MRZR X, allowing you to integrate stand-alone technologies while maintaining the physical and software architecture of existing habitable platforms.
Matthew Fordham said that one of the advantages of the MRZR X is that "a similar platform is already being used in the American army. Production costs will be low, and support is available worldwide. The machine is easy to operate and maintain, and the transition from manual to unmanned mode occurs at the flick of a toggle switch. The development of machine learning algorithms, video processing and user-programmable valve array technologies (FPGAs) has made a significant contribution to the semi-autonomous characteristics that the military is currently looking for. "
"The NMR market is constantly growing. With the growing confidence of the soldiers in the robotic platforms, we will see an increasing spread of such systems. Budgets will be formed taking into account the need to introduce additional ground-based robotic complexes in the arsenal of the military. We, looking at our likely opponents, strive to expand the functionality of our robots. They will be able to do the dirtiest and dangerous work for our soldiers. "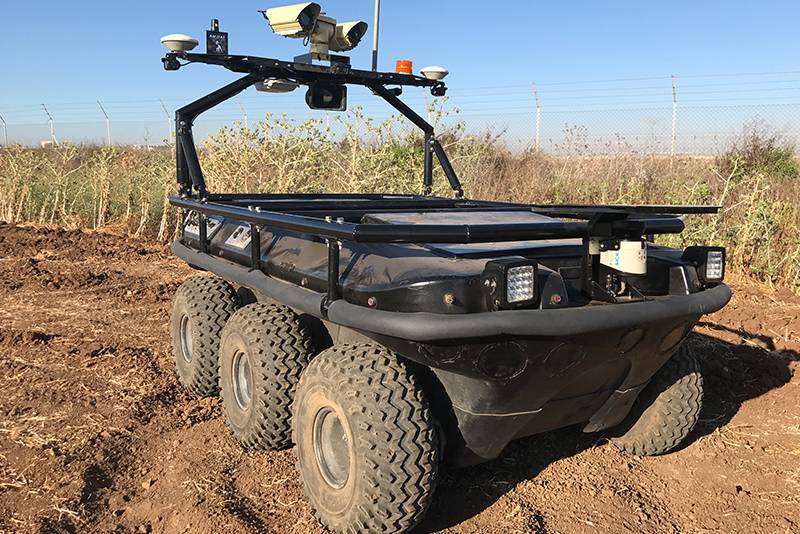 AMSTAF 6 6x6 - one of several wheel options for the NMR currently offered by the Israeli industry
Ronen Fishman from the Israeli company Automotive Robotic Industry agreed that the development of NMR is essential for a modern soldier.
However, he believes that the NMR market for national security structures remains more developed than the NMR market for military structures. However, in the near future, these technologies will be widely used in many armies of the world.
"There is already an understanding that the NMR should play a leading role in the next battle, but it will take another two or three years before this understanding turns into real action."
According to Fishman, high maneuverability and excellent maneuverability are the most important requirements for the NMR, working side by side with a modern soldier. Although the software remains a key element of any NMR development program, since only software allows various standalone modes to be implemented.
"The most difficult thing in software development is that it must make many subsystems work in perfect harmony and at the same time it must be flexible enough so that new advanced subsystems can be integrated in the shortest possible time."
Automotive Robotic Industry currently offers several wheeled NMRs, including AMSTAF 8 8x8; AMSTAF 6 6x6 and AMSTAF 4 4x4, which she develops with BFL India.
At the same time, the NMR market is in the process of reducing the size of platforms and payloads in order to optimize support for infantry and special units, especially when carrying out reconnaissance and disposal tasks for unexploded ordnance.
Продолжение следует ...