A rehearsal of the military parade on the occasion of the Independence Day of Ukraine, which is celebrated in the country 24 August, took place in Kiev today. Only foot units, equipment and armament took part in the rehearsal. They will train separately at the training ground near Zhytomyr, reports 112.ua.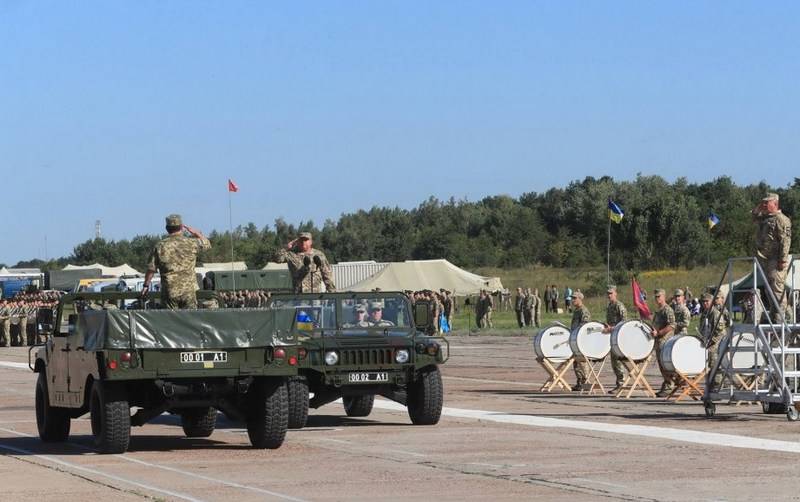 According to the Minister of Defense of Ukraine Stepan Poltorak, this year "there will be the most powerful military parade" for the entire time of Ukraine's independence. 4,5 thousand troops and 250 units of equipment are planned to participate in the parade. In addition, the participation of military guards of the "partner countries" is planned, fifteen of which have already agreed to participate in the parade. Poltorak also said that during the parade, new models of weapons and equipment obtained by the Armed Forces of Ukraine, as well as equipment undergoing state tests will be demonstrated. Poltorak noted that currently the question of participation in the parade of the air forces of Ukraine is being resolved.
Meanwhile, the Ukrainian media write that this year at the solemn parade of 24 of August the servicemen will use the military salutation "Glory to Ukraine!" - "Glory to heroes!" instead of congratulations of the Soviet sample.
Ukrainian military expert Sergiy Zgurets claims that the military intends to show equipment at the parade, which "have so far been seen and felt only close by." According to him, this year the parade will show the Sapsan operational tactical complex, the Alder high-precision salvo-fire system, the Verba automated jet system and the Bogdan self-propelled 155 self-propelled howitzer.