The Sprut-PDS parachute system in the world will go to the Russian Airborne Forces in 2020, RIA reports
News
with reference to a source in the military-industrial complex.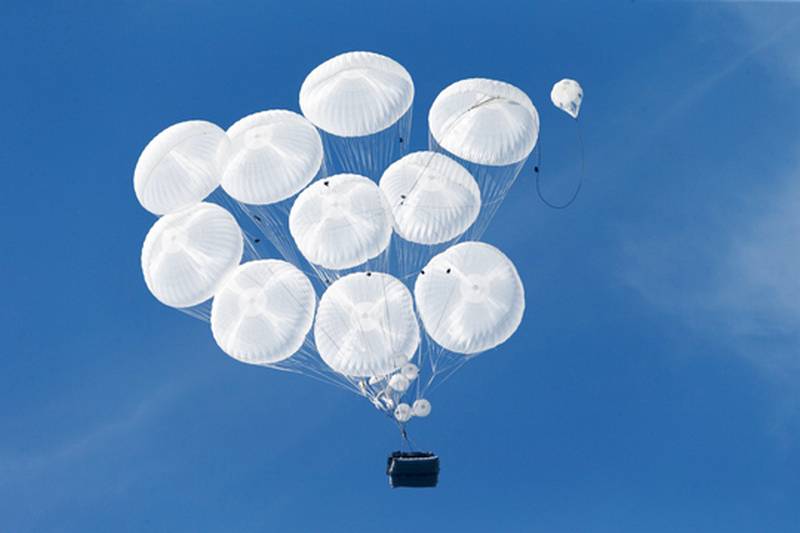 As explained by the agency interlocutor, the development of this parachute system is planned to be resumed in 2020 year, so that by the end of the same year the first sets of the Sprut-PDS will be supplied to the Airborne Forces. The system was almost ready back in the 2017 year, he explained, but due to changes in the design of the Sprut-SD self-propelled anti-tank gun, the technical task had to be changed. The interlocutor of the agency added that the Sprut-PDS parachute system, as the name implies, was originally designed for the landing of the Sprut-SD airplanes.
The new parachute system "Sprut-PDS" is a 14-dome system with an area of ​​each dome in 350 square. meters The system allows you to parachute combat equipment weighing up to 20 tons from a height of up to 1,5 km with an airplane speed of up to 380 km / h.
Earlier in the holding "Tekhnodinamika", engaged in the development of a new parachute system, announced the suspension of work due to the change of technical specifications for the development.
We remind that at the same time, in Tekhnodinamika, work is underway to create the first in Russia controlled planning parachute-cargo system UPGS-4000 for landing special cargoes not exceeding the weight in 4 tons from aircraft Il-76. The system is planned to be delivered to the troops no later than 2021.