The United States decided to challenge the "dominion" of the Russian Federation in the Arctic
The United States will invest billions of dollars in the construction of an icebreaker
fleet
capable of paving the way in the polar seas, in order to finally end Russia's Arctic "dominion", writes
InoTV
.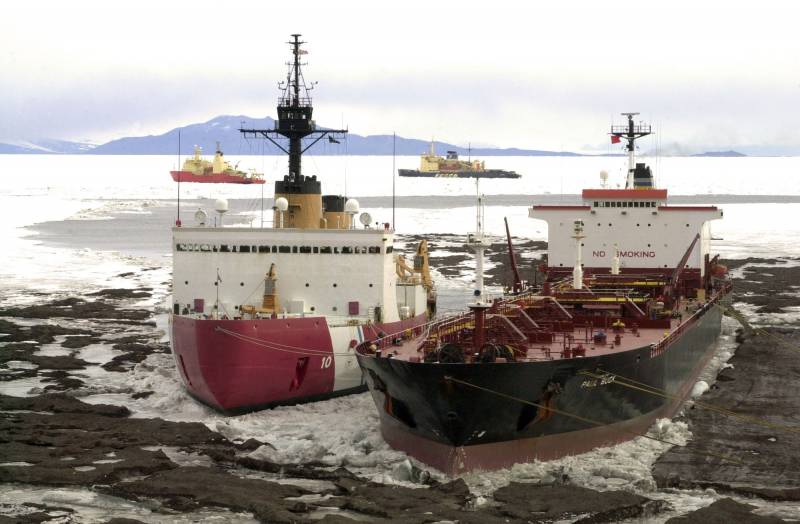 The American admirals constantly criticize the Pentagon for the lack of a clear strategy in the Arctic, especially against the background of melting ice, which contributes to the construction of new trade routes. The US Coast Guard has only two icebreakers (medium and heavy), while Russia has their 45.
It is assumed that Washington will be closely engaged in reducing the gap in the number of vessels after the adoption of the 717-billion-dollar military budget for the 2019 year. Now the bill passed by both houses of Congress is being signed by the president. Entry into force of this law will allow for the laying of 6 icebreakers (the cost of each is about $ 910 million), the first of which should be launched by the year 2023, the article says.
At the moment, the United States has only one heavy icebreaker Polar Star, which became part of the Coast Guard more than 40 years ago. There are two smaller icebreakers, but one of them has long been a source of spare parts. The third ship, Healy, was built for scientific research and is practically unsuitable for "conquering" new trade routes.
Russia, according to the Western press, also designs 11 icebreakers, which include 3 nuclear-powered ships. In addition, Moscow is actively increasing its military presence in the Arctic, where it plans to produce oil and natural gas.
As the US Coast Guard commander Karl Schulz said on this, at least three of the icebreakers planned for laying will have to be difficult for America to compete with Russia.
http://www.globallookpress.com