The construction of the next landing ship of the San Antonio type has begun in the USA
The United States has begun building a new assault ship, the San Antonio type. At the shipyard of Huntington Ingalls Industries in Pascagoula, Mississippi, a steel cutting ceremony was held for the USS Richard M. McCool, Jr. transport dock. (LPD-29), transmits "Warspot" with a link to the portal navaltoday.com.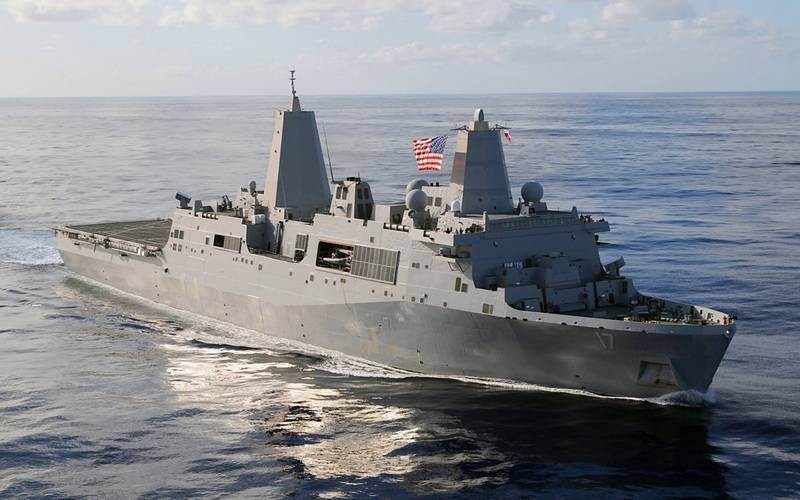 This ship will be the last 13 in the series of amphibious assault ships of the San Antonio Flight I type, although the construction of 12 ships of this type was originally planned. In the future plans of the US Navy is the construction of an upgraded series of Flight II, which will replace in the US Navy landing ships-docks such as Whidbey Island.
The ship is quite large, its length is 208 m, width is 32 m, the total displacement is 25300 tons, the draft of the vessel does not exceed 7 m. The vehicle is able to simultaneously carry two amphibious assault aircrafts and one LCUS, fourteen amphibious armored personnel carriers and no less xnumx paratroopers. If desired, it is possible to accommodate a larger number of personnel through the use of additional premises, but with minimal comfort conditions. The ship has a helipad in the stern that can accommodate four helicopters or two convertiplane MV-700В Osprey. The maximum vessel speed is the 22 node. The crew, including the wing, is about 22 people. The armament of the ship consists of two eight-charge fire fighting gears of the 400 XM for the Sea Sparrow missile system (41 missile ammunition), two General Purpose 64 RAM launchers from the General Dynamics company; two 31-mm AU "Bushmaster" Mk 30, two 46-mm machine gun Mk 12,7. In addition, on the ships of this type there are four PUs of the false targets Mk 26 SRB36C system, the Nulka false targets system, the Nixi SLQ-0 hydroacoustic countermeasure system, and the EW AN / SLQ-25A system.