American expert: Ankara may close Incirlik base for US
Washington should prepare for the fact that the Turkish authorities will close Incirlik airbase for it, as well as revise the policy in the region, taking into account the arisen tension in bilateral relations, leads
RIA News
opinion of the American expert, senior analyst of the Center for bipartisan policy Nicholas Danforth.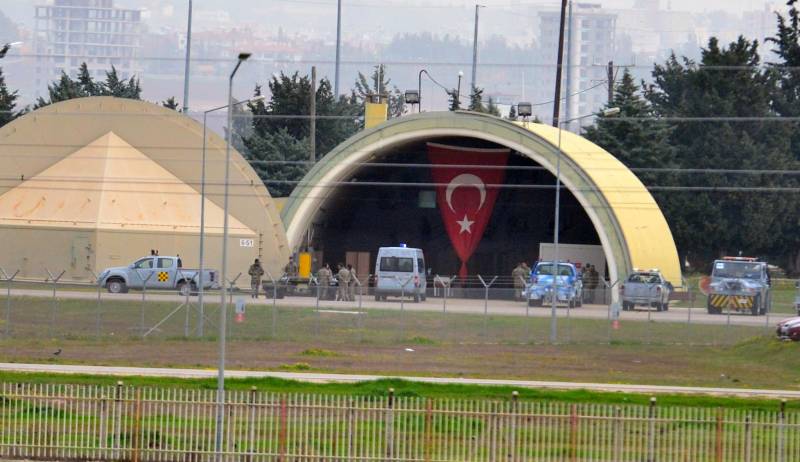 American-Turkish relations have worsened in recent months, including because of the American pastor Brunson, who was arrested in Turkey in 2016 year. On Wednesday, Washington imposed sanctions against Turkish Justice Minister Abdulahmit Gul and Interior Minister Suleiman Soilu. Both are blamed for "serious human rights violations."
Today, the US government should calmly continue the search for a diplomatic solution that would allow Branson to be brought home and would not harm American values, the expert believes.
According to him, the steps that Washington is currently planning should include preparations for the possible closure of bases in Turkey for the Americans, such as Incirlik. And in general, to rethink their regional policy from Iraq to the Balkans, since the current minimum level of Turkish cooperation can no longer be taken for granted.
Danfort recalled that the tension in relations between the two countries has recently been linked to factors such as Ankara's refusal to impose sanctions on Iran; the Americans support the Kurds in Syria and Iraq, whom the Turkish authorities consider to be terrorists; Ankara's purchase of Russian C-400 anti-aircraft systems.
In addition, the crisis in the US-Turkish relations is developing against the backdrop of dramatic problems in the Turkish economy and the fall of the national currency of the republic.
The Central Bank of Turkey recently increased its inflation forecast for 2018 and 2019. The projected price increase for this year was 13,4% (earlier it was mentioned 8,4%), on 2019-th - 9,3% (instead of 6,5%). Since the beginning of this year, the Turkish lira has lost 22% of its value.
http://www.globallookpress.com