Yesterday
news
about the death in the Central African Republic of three Russian journalists literally shook up domestic and foreign media, which with the speed of a rapid-fire rifle began to put forward different versions of what happened, sometimes having a right to exist, and sometimes really crazy, just to get into the cohort of "write about it."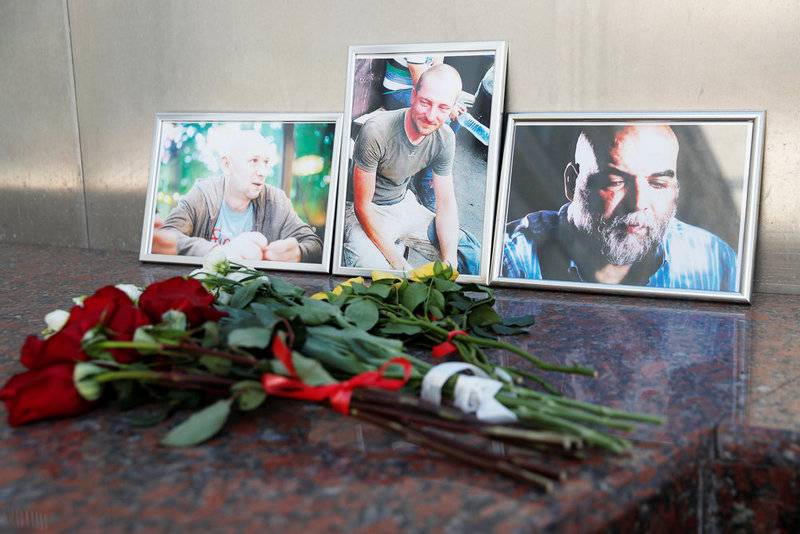 The publication "Reedus" published a statement by Oleg Teterin, the deputy editor of Asia and Africa Today magazine, who said that Russian journalists were removed by a tip from those who feared publicity about the participation of foreign mercenaries in internal armed conflicts in these countries. At the same time, according to Teterin, customers could be located in any country, including Russia.
At the same time, the official representative of the Russian Foreign Ministry, Maria Zakharova, said that there was no sensation in the presence of Russian instructors in the CAR and the Russian Foreign Ministry officially announced the presence of Russian military and civilian instructors in the CARs, so the version of the shooting of the film about the alleged Russian PMC does not hold water.
The version that Russian journalists could have been killed by militants of the Muslim insurgent movement "Séléka" was put forward by the TASS agency, relying on a statement in the country's authorities. The same information was provided by Palmarescentrafrique.com, a Central African edition, which claims that rebels from the Séléka group kidnapped and interrogated Russian journalists Orhan Jemal, Alexander Rastorguev and Cyril Radchenko, and then killed them.
Recall that Russian journalists arrived in the CAR 27 July and were not registered at the Russian embassy in this country. On July 30, they took a jeep with a local driver to the north, ostensibly to shoot a series of reports in the field. On July 30 around 18: 00 local time, they were stopped at a national security service checkpoint and warned about the danger of moving in the dark and offered to stop. However, the journalists decided to get to their destination.
The most likely option that the attack on the Russians was committed with the aim of robbery. Journalists with them had about 8,5 thousand dollars (by the standards of a poor country, a fortune) and two expensive video cameras. With this money you can live in the CAR for a whole year.