In Russia, about 600, thou. Thousands of servicemen are fed daily under the norm No. 1 of food rations,
RIA News
words of Deputy Defense Minister Dmitry Bulgakov.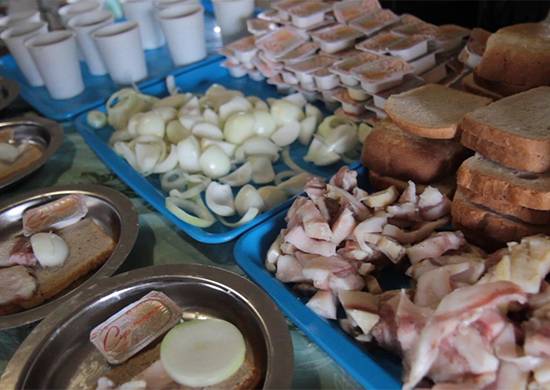 According to him, today it is very difficult to imagine a military pilot, a motorized infantry tanker, a sailor and another specialist without the necessary knowledge and practical training. But it is even more difficult to present them naked, hungry and unfinished.
And these are the main conditions for success in battle and in solving other problems. And the amount of work to maintain these conditions is very significant, the deputy minister said.
Only in peacetime, it is necessary to feed a prodpayka about 1 thousand troops 600-3 times a day at a normal rate, annually give them more than 4 million items of military uniforms, and also contain 50 military towns, about 5700 thousand buildings and structures, almost 70 thousand residential premises, Bulgakov told reporters.
In addition, the rear service maintains in working condition more than 7 thousand sewer and water supply facilities, about 24 thousand km of engineering networks in all climatic zones of the country, he added.
Recall, August 1 marks the Day of the Logistics of the RF Armed Forces. The Minister of Defense Sergey Shoigu congratulated them on their professional holiday.
He noted that today the personnel of the MTO units worthily continues the glorious traditions of their predecessors, improves professional training, helps to increase the level of equipment of the army and
fleet
makes a significant contribution to the fight against international terrorism.