In the Russian Federation developed underwater drone "Cephalopod"
In Russia, work is underway to create an atomic uninhabited submarine designed to destroy enemy submarines, writes resource
Popular Mechanics
.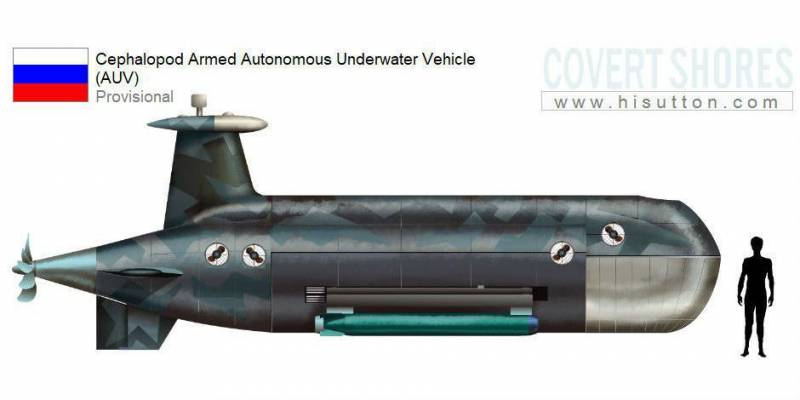 Information about this development first appeared in 2015 year. From the information on public procurement it became known that the TsBB Rubin is developing an uninhabited underwater robotic complex Cephalopod. The project on the project, costing about 8 billion rubles, also involved the Research and Development Institute of Marine Technology, concerns Agat, MPO-Hydropribor, OKBM them. Afrikantov and other enterprises.
Until recently, this project remained in the shadow of another Russian development - the nuclear supertorpedy "Status-6" ("Poseidon"). Now the picture is gradually becoming clear: "Cephalopod" is created as a submarine hunter, armed with compact MTT torpedoes. Ammunition has a small radius of action and carries a smaller charge, but in an underwater battle they are able to destroy an enemy submarine by breaking through its solid hull, expert Sutton (HI Sutton) said in an interview with the resource.
According to him, these are quite large
Drones
(the size of a bus), perhaps more than the US Navy. This is evidenced by the "bending" (multi-bladed) propeller, which is very similar to those that are installed on full-size boats.
One of the possible areas of application of Russian
drones
can become escort of submarine missile carriers during combat duty. "Cephalopod" would also be able to guard ports and other marine facilities. Good maneuverability of the mini-submarine is provided by thrusters in the bow and stern
https://twitter.com/o_gilvi