Created back in the Soviet Union, the Su-25 attack aircraft finally received a modernization package capable of updating the existing fleet of these aircraft to modern standards, writes
The National Interest
.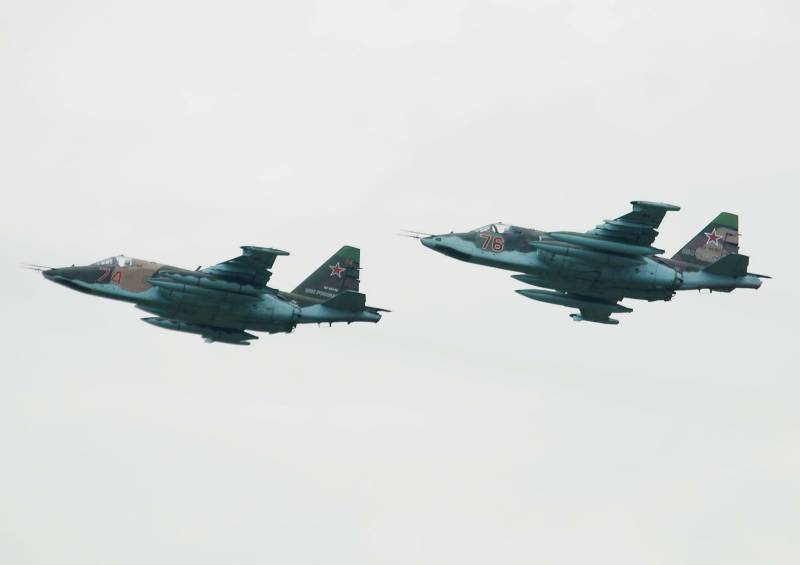 This is a version of the Su-25CM3, which, according to the author of the article, made a worthy competition to the American A-10 "Warthog".
According to the magazine, during the modernization engines, onboard equipment and avionics were replaced. The attack aircraft was able to confront fighters with the P-77 and P-27 air-to-air missiles. The result was almost a new combat vehicle.
The survivability of the attack aircraft is enhanced by the installation of the Vitebsk-25 complexes, which create "phantom targets" for enemy missiles. In addition, the new EW systems will make it more difficult for the aircraft to be hit by missiles induced by radar.
Also, the updated car received a new system SVP-24 "Hephaestus", which allows the use of "smart" bombs.
Compared to the Warthog, the Russian Grach is faster and has another advantage - its guidance system is located in the bow, which, incidentally, somewhat limits its capabilities, the expert writes.
At the same time, A-10 retained its superiority in the use of electro-optical missiles of the "shot-and-forget" type, however, these munitions now have a drawback - modern EW systems have learned how to deal with them effectively.
In turn, Su-25СМ3 received equipment for laser guidance, which allows you to clearly direct the missile at the target in the conditions of radio-electronic interference.
Summing up, the author notes that each of the compared aircraft has its advantages. So, the "Warthog" is focused on the use of its powerful gun and electro-optical missiles, and "Grach", in turn, - on precise bombing and the use of laser-guided weapons.