The construction of several dozen hovercraft in the interests of the Russian Navy
fleet
stipulated and laid down in the state arms program until 2027, said Deputy Prime Minister Yuri Borisov.
Answering journalists' questions, he explained that the construction of the Zubr and Murena hovercraft is provided for by the state armaments program. Orders for their construction will be placed at the Khabarovsk Shipbuilding Plant, previously specializing in aluminum hulls, while this is not about units, but about dozens of ships.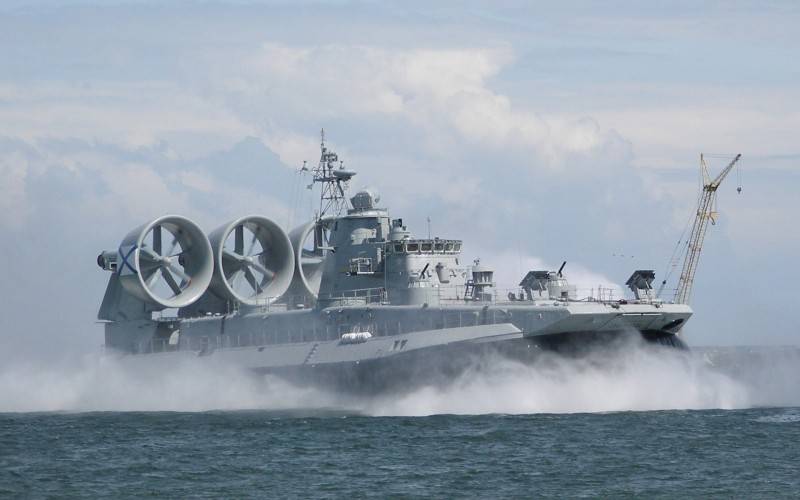 Earlier it was reported that at the Khabarovsk shipbuilding there was an extremely difficult situation due to the lack of orders from the Ministry of Defense of the Russian Federation.
The hovercraft of project 12322 of the Bison type is 57 meters long and 20 meters wide. Displacement is 535 tons, draft - only 2 meters. It is equipped with high-temperature gas turbine engines that provide the ship with an air cushion thanks to four 2,5-meter propellers, and it is driven by three more propellers with a variable angle of attack and diameters of 5,5 meters. The ship is capable of speeds of 70 knots or 130 km / h. The Bison can land on 78% of the coast of the world without any preparation, although landing ships with opening nose ramps do this only on 14% of coastlines. The ship is capable of delivering three to the coast
tank
weighing up to 150 tons or 10 armored personnel carriers with marines. In addition to transporting troops, the ship can carry out the installation of minefields and provide fire support to the troops.
Project 12061 "Moray" - airborne assault boat. The boat is intended for receiving from the equipped or non-equipped coast of military equipment and personnel of the advanced detachments of amphibious assault forces, transporting them by sea, disembarking on the unequipped coast and fire support. Boats of this type may also be involved in the tasks of setting active minefields.
The boat provides for the transportation of military equipment in the following composition: 1 medium tank weighing up to 50; or 2 armored personnel carrier; or 2 infantry fighting vehicles. Instead of placing military equipment, the cargo deck can be equipped with removable benches to accommodate the 140 landing force man.
The boat has a very impressive armament: Artillery - two mm 30 automatic installation type AK-630 (ammunition - 3000 shells) and fire control system. Anti-aircraft - 8 sets of portable air defense systems of the "Needle" type. The ship's mine equipment consists of a set of portable equipment for setting from 10 to 24 min, depending on their type.