In the sports environment of Russia, a scandal broke out over yesterday's awarding of football players and coaches of the Russian national team. Recall that on the eve of the Kremlin, the president accepted the football team and presented state awards. So, coach Stanislav Cherchesov was awarded the Order of Alexander Nevsky, goalkeeper Igor Akinfeev and defender Sergey Ignashevich - the Order of Honor. The rest of the national team players received presidential letters and thanks. At the same time, all the players of the Russian national football team received from sports officials the title of Honored Master of Sports (ZMS).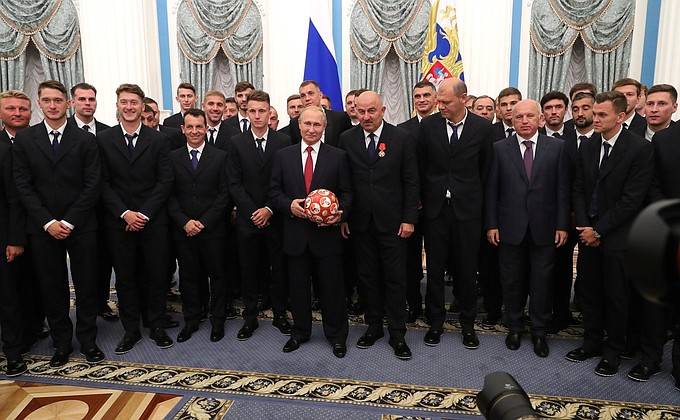 It is the title of ZMS and caused controversy in the sports environment. It all started with the post of Russian volleyball player Ekaterina Gamova (two-time Olympic medalist), who wrote in Instagram:
Some strangely different attitude to the achievements of athletes in our country! Someone, to get the title of ZMS, you need to win the world championship or become a medalist of the Olympic Games, and someone gets only for reaching the quarter-finals. I am sorry that the title of PMS devalue.
Gamowa also notes that at one time not all of the "golden" line-up of the women's volleyball team received the title of PJS - officials said that not all were players of the main line-up.
After this post Gamova public opinion was divided. Some supported her, others declared envious.
Commentary from the "support group", in which Russian volleyball player, Olympic champion 2012 of the year, Oleg Musersky is also (quote
"Championship.com"
copyright text saved):
I'm also surprised that they started to compare football and volleyball! The popularity of these sports, workload, competition, etc. Post is not about that! The post that the icon of the Honored Master of Sports is given in Russia for 1-3-place at the Olympic Games and for 1-place at the World Championships. But not for the release of the final in 1 / 4! Guys, football players have nothing to do with it, I repeat these words again! They played well! And the highest award can not be for 8-e place ... Badge ZMS for me personally lost its value ... I generally keep quiet about the organization of honoring in the Kremlin.
Those who expressed their dissatisfaction recalled the awarding of foreign cars, which is also not spelled out in the statutes and codes.
Discussion rewarding Russian football continues. At the same time, the main controversy is not about the performance of the Russian national team, which really performed with dignity, but around a strange approach to the same laws and principles.