Harassment of Natalia Poklonskaya party members. What happened at the commission meeting?
The acute situation with the actual protest vote of the deputy of the United Russia faction Natalia Poklonskaya on the issue of pension reform continues to gain momentum. Recall that Natalya Poklonskaya, a deputy from the Republic of Crimea, was the only United Russia member present during the voting who voted against the pension reform proposed by the government.
After some time, Sergei Neverov, head of the United Russia party Duma faction, said that due to this kind of "deviation" from the general line of the party, Natalia Poklonskaya should have "made a decision to quit" from the United Russia Duma group.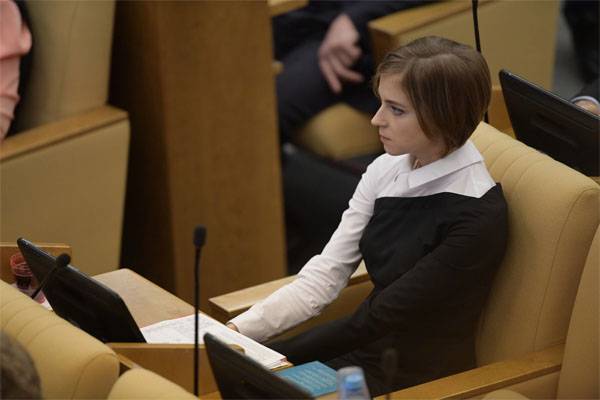 Deputy Poklonskaya's answer to this "wish" of Neverov is published today by the news agency
TASS
. According to her, she is not going to go anywhere, since the voters cast their votes for her.
Natalia Poklonskaya for journalists:
I was entrusted with a site of work, the voters chose me, the management entrusted me with the work that I do according to my conscience, therefore - no.
Against this background, it became known that at the meeting of the Duma commission headed by Natalia Poklonskaya, none of the members of this commission representing "ER" had come. Only the deputy Poklonskaya and two representatives of the CPRF and SR parties were present in the hall.
This is what a harassment of a deputy who has shown a civil position and has shown that he is ready to justify the trust of voters?
It must be recalled that earlier Natalya Poklonskaya, one of the frankly few, did not get out of her chair at the moment when a delegation of the US Congress appeared on the balcony. All the rest - "in unison" rose, even with applause. Who applauded? For those who stifle the country with sanctions?
Recall that today news agencies reported that the post on the supreme political council of United Russia was about to leave Sergei Zheleznyak, who missed the vote in the Duma, since at that time he was on sick leave.
http://www.globallookpress.com