The scientists of the Novosibirsk Institute are developing a hypersonic aerospace plane. To date, created a model of the aircraft, which is being tested in a wind tunnel, the channel says
Vesti Novosibirsk
.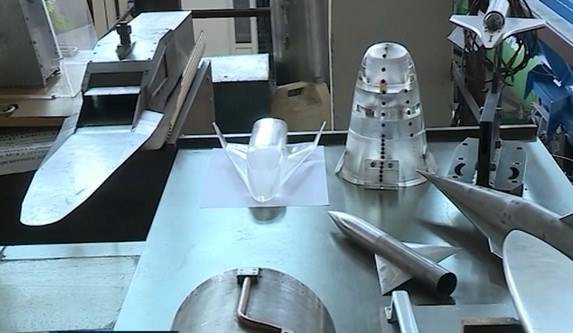 During the experiment, scientists fed into the pipe a stream of air that moves at a speed of 1,5 km per second.
As the Institute's researcher Tatyana Kiseleva noted, the model of the spacecraft can already be held in the hands - it is flat, with rounded wings. This is necessary for the development of hypersonic speed and in order to withstand extreme temperatures.
The device has a specially blunt and fairly thick edge.
According to the Director of the Institute, Alexander Shiplyuk, the edges are made so thick, because they get very hot when flying in an atmosphere with speeds close to those of the space. The temperature reaches 2 thousand degrees, it is very much, the director added.
Scientists explained that today the most important thing is to understand what materials can withstand this temperature, while maintaining the skin of the aircraft. They are confident that the missiles will be replaced in the foreseeable future by airplanes that are capable of rising to a height of more than 100 km above the Earth's surface and, having risen, will be able to return with cargo and passengers on board.