A fire on a ship under construction in Italy was filmed
In Italy, a warship Vulcano (shipyard Mugiano Fincantieri in La Spezia), which is under construction, is on fire, there are no victims, according to
Naval Today
.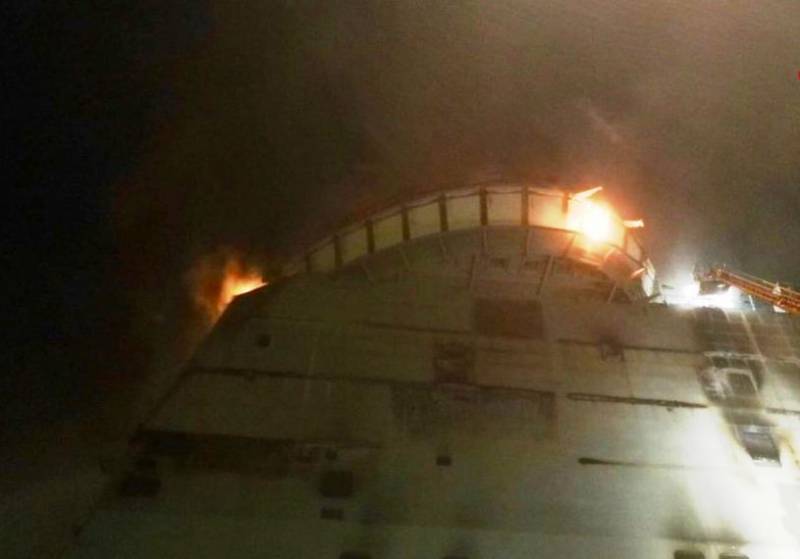 The incident occurred late Sunday in the evening. The fire broke out in the engine room of the ship.
The firefighters who arrived at the scene managed to establish control over the situation only after a few hours. The fire was extinguished both from the water and from the air. According to eyewitnesses, as a result of a fire the ship tilted on its side. The special commission has yet to assess the damage caused by the fire.
According to the shipyard representative, no one was injured during the fire - at that time no work was done, and there were no employees of the company on board. He also noted that it's too early to talk about the amount of damage and the causes of fire. In the coming days, a specially created commission will work with the firefighters.
The launching ceremony for the ship Lss Vulcano took place last month. It was attended by the Minister of Defense of Italy, the heads of other departments, high-ranking officials.
It is reported that the length of the ship - 193 meters. It is intended for the logistics of warships at sea.
The transfer of the Vulcano to the Italian Navy was scheduled for 2019 year. It is currently unknown whether the fire will affect the delivery schedule.
National Fire Corps of Italy