The Security Service of Ukraine publishes material that says about the detention of another soldier who was involved in the theft of components for military equipment with a view to their subsequent sale. The detention was carried out in a military unit deployed in the Kozelets district of the Chernihiv region, where an electrician driver (wording of the SBU) was filming
tanks
dynamic defense and stolen ammunition.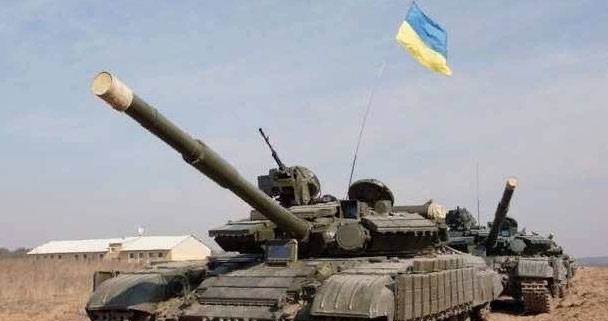 The title of soldier is a senior soldier (Ukrainian equivalent of the title of corporal). He served as a contract.
From the press service of the department:
24 July 2018 soldier, being at his place of residence, sold the citizen of Ukraine seven elements of dynamic protection of tanks and four packs of cartridges of caliber 7,62 mm, 20 pcs. in each pack, for which he intended to receive cash in the amount of 3,5 thousand hryvnia (about 8,3 thousand rubles).
The soldier detained, sold them ammunition and components, according to the press service of the SBU, seized.
This is the third detention for similar episodes. An investigation into the case of a soldier of the 1-th separate tank brigade, who stole the 32 of the Knife dynamic protection module and sold them for 11 thousand UAH, was completed. The court appointed the soldier a two-year term in a disciplinary military unit as a punishment. Also in Ukraine, a soldier was detained, who removed the boards from anti-aircraft missile systems for their subsequent implementation. It is not reported who those persons who bought this specific product from Ukrainian soldiers are.