New destroyer launched in China
The PLA Navy will soon be replenished with another Zibo destroyer. Last Sunday, the Type 14D Type 052D ship was launched at the Jiangnan Changxing shipyard near Shanghai, reports
Warspot
.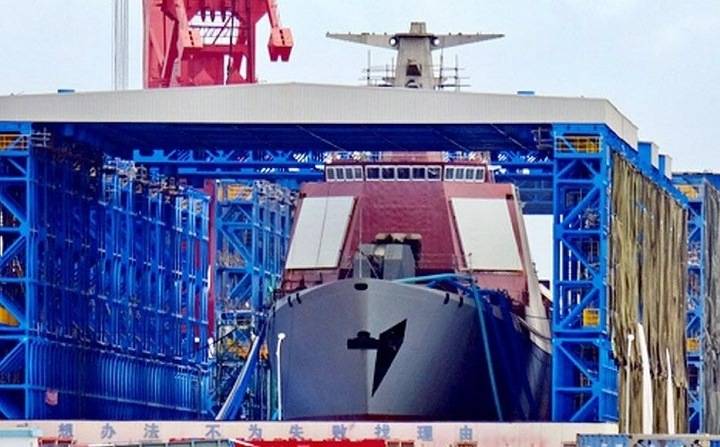 Ships of this project are being built in China since 2012. Already 8 destroyers are part of the Navy, three are being tested at sea, three more are being completed afloat. In addition, at least five ships are on the stocks. Thus, the PLA Navy will receive at least 19 Type 052D destroyers.
Zibo is somewhat different from its predecessors. It is equipped with an extended helipad to accommodate the new Z-20 helicopter. Also, Zibo and all subsequent destroyers (according to unconfirmed information) will receive new radars.
The displacement of ships is 7500 T, the draft is 6,5 m, the length is 156 m, and the width is 18 m. The maximum speed is 30 knots. Crew - 280 man.
During the construction of ships, stealth technologies are used, reducing their radar visibility.
The destroyer is armed with missiles capable of hitting air, surface and ground targets, torpedoes, mines, as well as 130-mm artillery and 30-mm anti-aircraft guns.
Currently, in addition to the above ships, Chinese shipyards are building destroyers of a new generation, the Type 055.