Destroyed by the "Package": ships of the Pacific Fleet in the Sea of ​​Japan tracked down the "enemy" submarine
On Tuesday Pacific ships
fleet
conducted a drill in the Sea of ​​Japan to detect and destroy a submarine of a conditional enemy, reports
press office
Eastern District.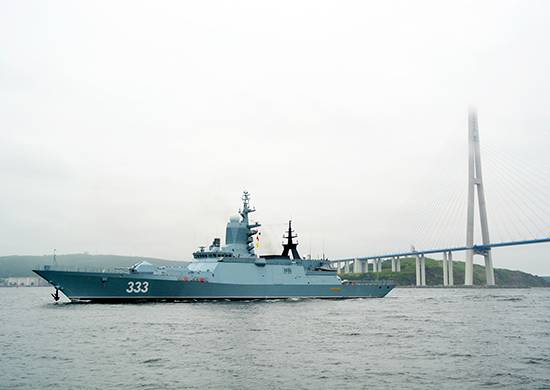 The training was conducted in accordance with the combat training plan within the framework of the course task K-2 (the action of a single ship). The corvette "Perfect" and the destroyer "Fast" were involved in it.
Acting in the adjacent marine polygons, the ships completed the tasks of searching for and destroying the "enemy" submarine, the role of which was fulfilled by one of the submarines of the Pacific Fleet. For search activities were used deck helicopters Ka-27PL.
It is reported that the corvette "Perfect", after performing the necessary set of measures for searching, classifying and tracking the submarine, used the small modern anti-submarine complex "Package" for its conditional destruction.
In turn, the destroyer destroyer used anti-submarine rocket bombs to destroy the "enemy" submarine.
Upon completion of the exercise, both ships set off for a general training of the parade dedicated to the Day of the Navy of Russia, which will be held in the Amur Bay on this Sunday (July 29).
Ministry of Defense of the Russian Federation