Another terrorist attack occurred in the capital of Afghanistan. The explosive device was activated near the international airport of Kabul, according to the official representative of the Ministry of Internal Affairs of the country Najib Danish. According to him, the bomb was fixed on the body of a suicide bomber. As a result of the explosion, at least 11 people died, dozens were injured of varying degrees of severity. Among the wounded are children.
At the same time it is known who this terrorist attack was directed against. According to the Afghan media, the terrorist blew up the suicide belt on the route of the motorcade, which included a car of the country's vice president, well-known far beyond the borders of Afghanistan, General Abdul-Rashid Dostum. General Dostum arrived in Kabul by charter from the capital of Turkey. In Ankara, he lived since May 2017, due to political friction with other representatives of the Afghan authorities.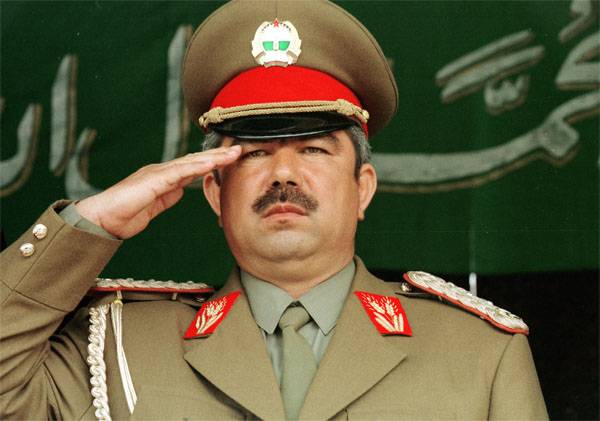 Abdul-Rashid Dostum (1997 photo of the year)
In recent years, Dostum has acted as one of the most active Afghan politicians who are fighting ISIS (* banned in the Russian Federation). He himself repeatedly participated in the anti-Igil operations in the north of Afghanistan.
According to Dostum himself, who arrived in Afghanistan after a long absence, he heard an explosion at the moment when his car left the Hamid Karzai airport along with the escort vehicles. Dostum said that his opponents in Afghanistan are still strong, and he personally, with the support of the Afghan people, is ready to fight those who bring chaos to the Afghan land.