The head of the press service of the operational command of the DPR, Daniel Bezsonov, today voiced information that a unit of snipers had been formed in the Armed Forces of Ukraine, which would allegedly be engaged in "shooting objectionable leaders of the nationalist battalions." According to an officer of the headquarters of the Armed Forces of the DPR, the sniper work of the Ukrainian security forces in the Donbas will be presented as actions by servicemen of the army of the Donetsk People's Republic.
В
material
the operational command states that the sniper group consists of 30 people who represent the Alpha Center of the Security Service of Ukraine, as well as the 3-th separate special forces regiment of the Ukrainian Armed Forces brigade. This unit is deployed in Kramatorsk.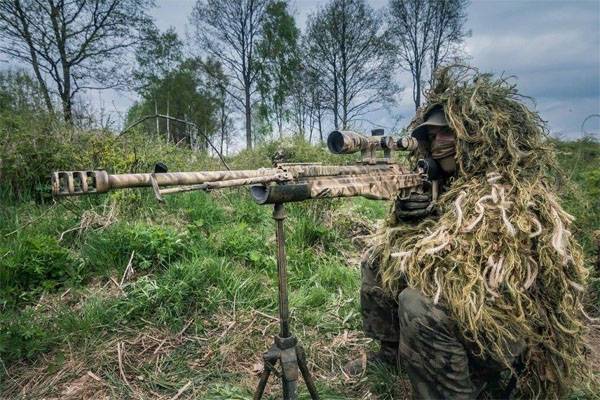 According to Bezsonov, the "shooting of objectionable" commanders of the national battalions of the Armed Forces of Ukraine and the SBU intend to engage in connection with the intensification of the confrontation between these battalions and the armed forces of Ukraine. It was stated that the order to activate the sniper fight was given to the commander of the EP by the Nayev due to the fact that the national battalions refuse to leave the territory near the contact line.
From the material:
In order to supply the formed unit S. Naev, additional funds were allocated for the purchase of REMINGTON and BARRETT sniper rifles, as well as the new MABUTA MK2 field form, ARMY SOS navigation tablets, VETRONIX type sniper range finders, portable weather station KESTRAL 4500 NV.
Bezsonov said that such information is contained in a closed order. About how the DNR learned about the content of this order, not reported.
Meanwhile, in the material of the operational command of the Armed Forces of the DPR, it is stated that 9 violations of the previously declared cease-fire regime from the Ukrainian side were recorded within 24 hours. In particular, mines of caliber 82 and 120 mm are used.