11 on May 2011 of the American enterprise General Dynamics Electric Boat in Cuonset Point (Rhode Island) held the official groundbreaking ceremony for the first atomic multi-purpose submarine of the Virginia type Block III - SSN 784 North Dakota. This ship should be the eleventh submarine of the Virginia type. The boat itself is being built at General Dynamics Electric Boat in Groton, Connecticut, and hull sections are made at Quonset Point.
The contract for the construction of the SSN 784 submarine was issued by the US Navy to General Dynamics Corporation in August 2003. Subsequently, financing for the construction of this submarine was included in a five-year contract worth $ 2008 billion issued by General Dynamics and Northrop Grumman in December 14,011 for the construction of eight Virginia Block III submarines (SSN 784 - SSN 791) for the US Navy. The actual construction of the boat was started in 2009. The launch of North Dakota is expected in 2013, and the transfer to the American
the fleet
- in 2014. All eight submarines under the 2008 contract are due to be completed by fiscal 2019.
The main differences of the Virginia Block III series submarines (also known as Batch 2) from the Block I and II series boats (Batch 1) will be the replacement of the HACOS spherical antenna with the new Large Aperture Bow (LAB) antenna and the replacement of 12 vertical winged launchers Tomahawk missiles for two Virginia Payload Tubes (VPT) universal nasal modules with a diameter of 2,1 meters that can be used to accommodate each of both six Tomahawk cruise missiles and another target load.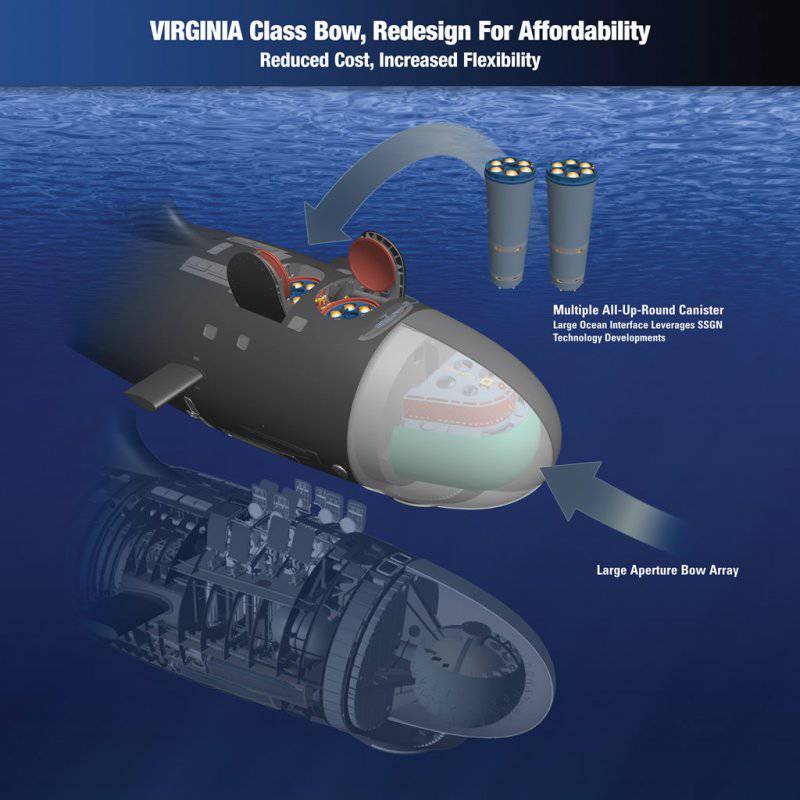 Differences in the design of the atomic multi-purpose submarine of the type Virginia Block III from the boats of the Block I and II series (c) General Dynamics Electric Boat