A new attempt to attack the Russian air base in Syria
On the eve of the Russian air base "Hmeimim" again were used air defense. Representatives of the focal point for reconciliation of the warring parties confirmed the information that the militants once again tried to attack Hmeimim using an unmanned aerial vehicle equipped with an explosive device.
According to Major General Alexei Tsygankov, the UAV was launched from the territories under the control of the militants in the province of Lattakia. Territories controlled by illegal armed groups are located in the northern part of Latakia.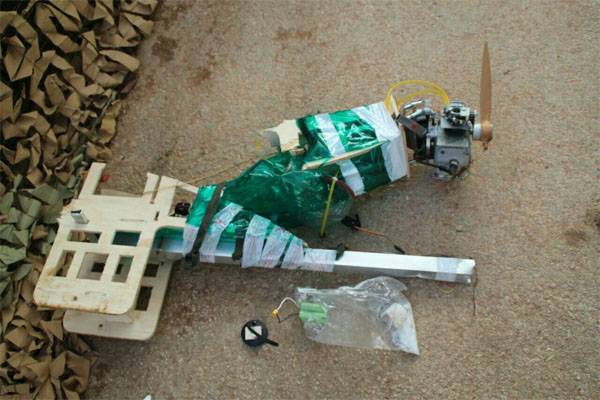 UAV militants intercepted during a previous attack on Khmeimim
From the message of the Russian general:
The airborne target was destroyed by standard anti-aircraft fire weapons at a distance from the air base. There are no casualties or material damage. The Russian Khmeimim airbase functions as planned.
It was previously reported that previous attacks using
drones
were suppressed with the use of ZRPK "Pantsir".
Militants have clearly stepped up their attempts to attack the Russian air base in recent times. Meanwhile, the Russian
aviation
together with the Syrian Air Force, for several days, carried out successful combat work in the south of the SAR, delivering a series of attacks on terrorist positions in the Golan Heights. Airstrikes allowed Syrian government forces to take control of several key populated areas and put terrorist groups in Daraa and Kuneitra in such conditions that ultimately they would have to either end the resistance or be destroyed in Syrian sands. There is a third option: someone will decide to evacuate the militants along with equipment to third countries for possible preservation as a tool to achieve their goals.