UAV "Hunter" will become the prototype of the next generation fighter
The newest shock pilot "Hunter" will be the prototype of the sixth generation fighter, reports
TASS
message source in the Russian defense industry.
The interlocutor noted that today the signs of the 6 fighter generation are not fully formed, but the main features can already be identified: this is, first of all, the lack of a pilot and the ability to perform combat missions autonomously.
According to him, it is in this part (autonomy and artificial intelligence) that the new UAV will be the prototype of the 6 generation aircraft.
The source added that the "Hunter" will be able to independently take off, perform the assigned task and return to the base.
The only thing that the device will not receive yet is the right to make a decision on the use of weapons - this function will remain with the person, he specified.
Earlier it was reported that the creation of a prototype of the UAV "Hunter" was fully completed at the Novosibirsk plant of the company "Sukhoi", test flights should begin this year.
According to media reports, the drone is made according to the "flying wing" scheme using the "stealth" technology. BLA take-off weight is about 20 tons. According to unconfirmed reports, the device is equipped with a jet engine and is capable of speeds up to 1 thousand km / h.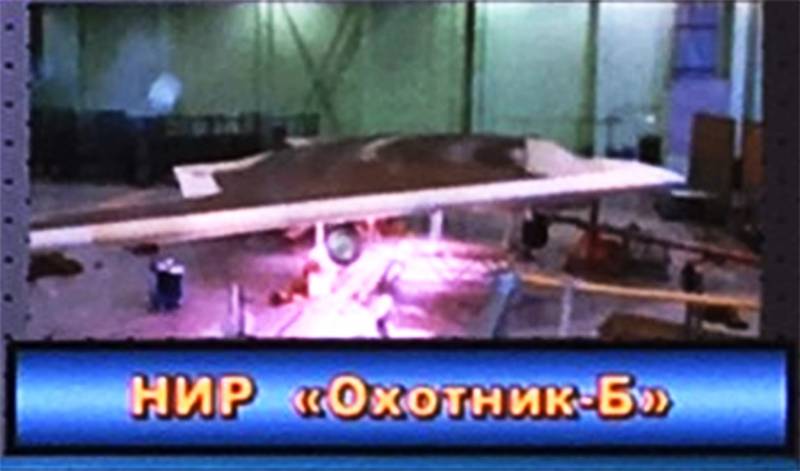 Recall that the development contract
drone
in the interests of the Ministry of Defense was signed in 2011. Its first mock-up for ground tests was created in 2014.
The beginning of work in the Russian Federation over the sixth generation fighter became known in the spring of 2016. Experts attribute the optional maneuverability to the characteristic features of such a complex - in the base case it will be unmanned.
Piotr Butowski / Air & Cosmos, Russian Ministry of Defense (via paralay.iboards.ru)