The frigate Admiral Gorshkov (project 22350) will become part of the Naval
fleet
July 28, on the eve of the main naval parade, reports
press office
Ministry of Defense of the Russian Federation.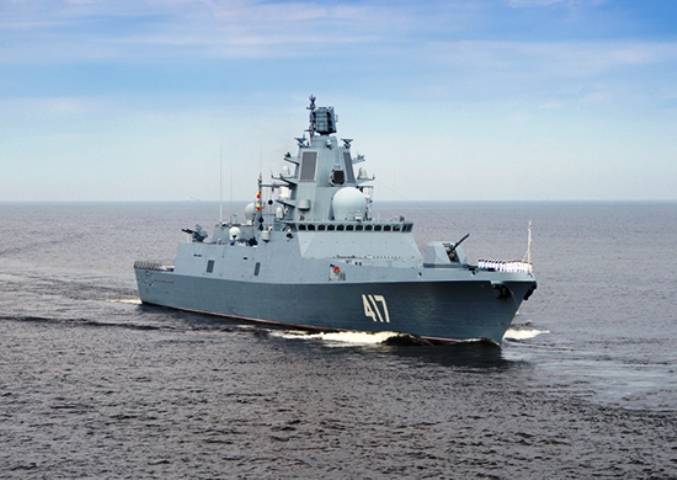 The ceremony of raising the St. Andrew's flag will be held in St. Petersburg at the "Northern Shipyard". The event will be attended by representatives of the command of the Navy, the management of USC and design organizations.
The day after the ceremony, the ship will take its place in the parade at the Main Naval Parade.
The press service recalled that the Admiral Gorshkov arrived in the Gulf of Finland a few days ago, having made the transition from the Northern Fleet as part of a detachment of ships, which also included the cruiser Marshal Ustinov, a large anti-submarine ship Severomorsk and the Eagle submarine .
"Admiral Gorshkov" - the lead ship of the project 22350, many technical solutions in the frigate are implemented for the first time. He is able to perform a wide range of tasks in the far sea zone. To date, the ship has passed 65 thousand miles. The reliability of its weapons and power plant is confirmed.
The 22350 project ships have a displacement of 4,5 thousand tons, their length is 135 m, and the width is 16 m. The maximum speed is 29 nodes. Autonomy - 30 days, cruising range - 4,5 thousand miles. Crew - from 180-ti to 210 people.
The frigate is armed with a launcher for the 16 Onyx or Caliber-NK missiles, the Redoubt anti-aircraft system, the A-192 (mm 130) artillery. As antisubmarine
weapons
has on board the complex "Package-NK." May carry a Ka-27 type helicopter.