The situation in Syria. "Something" is being prepared in Idlib
In Deir-ez-Zor, two civilians were killed by the blows of the Western coalition air forces. Over 100 buses arrived in the settlement of Idlib in order to evacuate the population. Russian HQs struck at the positions of terrorists in Daraa. Reports about it
FAN
with reference to local sources.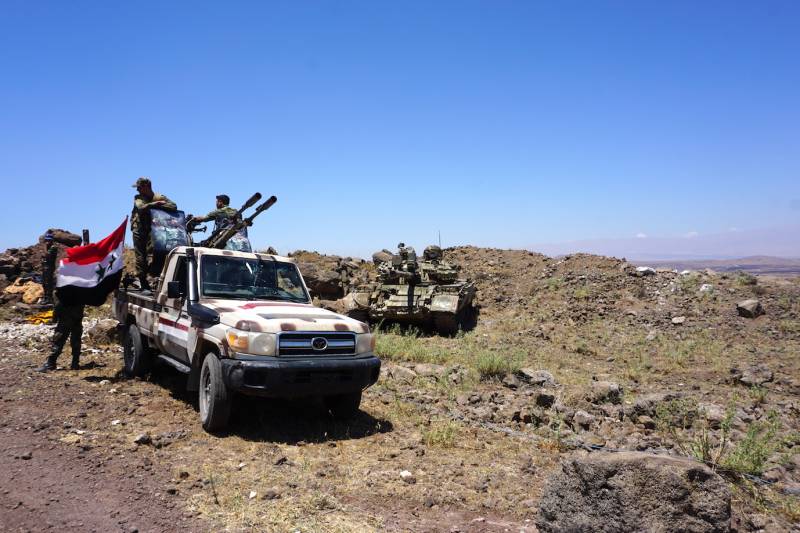 Aviation
the Western coalition attacked the alleged hideouts of the ISIS terrorists (a group is prohibited in the Russian Federation) in the city of As-Susa in the province of Deir ez-Zor. As a result, two civilians were killed and several others were injured. According to sources, humanitarian aid in the form of 2025 chairs for a local school arrived in the provincial capital.
The Russian Aerospace Forces and the SAR Air Force launched an attack on the Islamist position "Dzhebhat al-Nusra" (banned in Russia) in the western part of the province of Daraa. The fortifications of radicals near the settlements of Tasil, Tell Ashtar, Jlin and at the height of Tell al-Jabiya underwent strikes. As a result of the strikes of Syrian airplanes in the cluster of militants near the Nava settlement, one of the field commanders of the Free Army (FSA) was liquidated. Later, there were reports that the radicals entrenched in the Nava area began to take
weapon
.
In the settlements of Al-Foy and Kafraya (Idlib province), buses arrived in 24 hours to evacuate civilians. In total, a 121 bus was sent to the settlements. Recall, recently, between the Islamists and the command of the CAA, an agreement was reached, according to which the civilians of the besieged settlements will be taken to safe areas controlled by government forces.
Syrian aviation attacked militant strongholds in the vicinity of the Gadira settlement of Al-Bustan, located in the Golan Heights region (Quneitra province). Earlier, under the onslaught of the Syrian army, the radicals suggested introducing a cease-fire regime in the region. However, they themselves later violated it, opening fire on the cities of Jab and Al-Baath. At the end of the day, a message was received about the release by the government troops of the settlement of Barik.
http://www.globallookpress.com