Ukroaktivistov hysterics: Shame on all football traitors, they will all get the war
In Ukraine, Donald Trump's meeting with Vladimir Putin is discussed no less than in the United States and Russia. This conclusion can be reached if we monitor the Ukrainian blogosphere and the Ukrainian media. In this mood: from cheers about the fact that "Trump made Putin save the gas transit and did not recognize the Crimea Russian," to minor notes related to the very fact of a personal meeting of the Russian and American presidents.
On the subject of the summit expressed a variety of Ukrainian experts and politicians. Among them is Oleg Voloshin, who previously represented the Information Department of the Ministry of Foreign Affairs of Ukraine. He notes that all the talk about the international isolation of Russia turned into utter nonsense. According to the former representative of the diplomatic corps of Ukraine, only a completely deranged person can continue to say that "the international community ignores Russia". As an example, Oleg Voloshin cites not only the meeting between Putin and Trump, but also the World Cup held in Russia, which the FIFA presidents and the United States called the best in
stories
holding such tournaments. World championship in the Russian Federation was visited by presidents, prime ministers, crown princes and princesses, kings and queens. This, according to Voloshin, suggests that the Kremlin in the world is recognized as one of the most important centers of political power.
Oleg Voloshin quotes portal
"Politnavigator"
:
The final (World Cup 2018) showed the illusion of isolation. As Bender said: "This is a fact that cannot be simply dismissed."
On the web, a joint photo of the presidents of Russia, Croatia, France and FIFA is being discussed, which, having embraced, pose in front of the camera of the smartphone.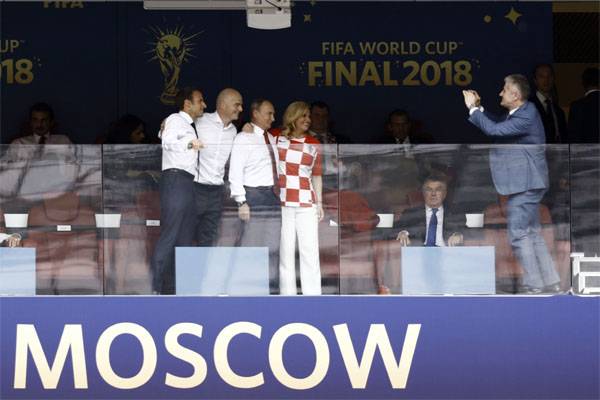 This photo caused anger at the representative of the leadership of the anti-Russian Ukrainian television channel ATR Aider Muzdabayev. He sharply criticized the leaders of foreign countries who arrived at the World Cup 2018 in Russia. Even representatives of the Russian non-systemic opposition and non-persistent journalism were subjected to criticism by a supporter of Maidan ideology, who were photographed at the stadiums with happy faces and uploaded photos to social networks.
Hysterical Muzhdabaeva:
Shame on all countries and footballers who took part in it. I shake hands with all who remained whole, who immediately understood what was happening, and did not break along. There are many of us. Glory to Ukraine, to hell with Mordor in any of its manifestations. This cowardly, corrupt world, running over a rake, deserves a big war, and he will get it
"There are many of us." Whole chamber?
Mehdi Taamallah (http://www.globallookpress.com)