Trump: This meeting becomes a turning point for relations between the US and Russia
US President Donald Trump and Russian President Vladimir Putin commented on the first official bilateral meeting. The personal meeting of the two leaders (in the presence of translators) instead of the planned one and a half hours lasted about 40 minutes longer. After this, negotiations continued in an expanded format. It should be noted that not only Trump and Putin officially met in Helsinki for the first time within the framework of the official summit, but also the heads of the US and Russian foreign affairs agencies Sergey Lavrov and Mike Pompeo.
Following the meeting, both leaders held a press conference. Donald Trump said that we are now talking about a turning point in relations between the United States and Russia.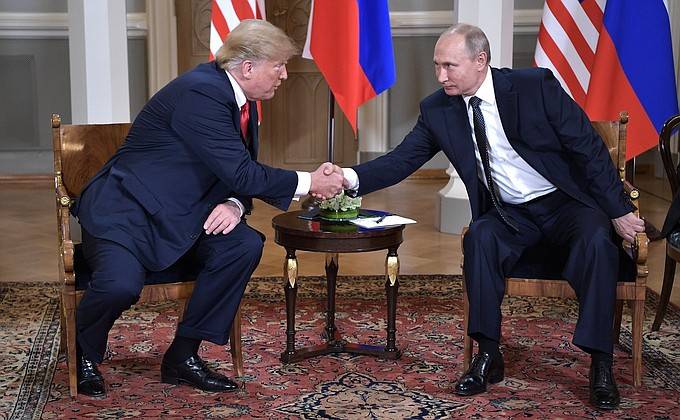 The President of the Russian Federation noted that there is hope for solving problems while consolidating efforts. According to Putin, optimism instills that the talks themselves took place in a frank and positive atmosphere, were trustful and open. Vladimir Putin recalled that the cold war is over, and therefore it is not necessary to set the situation in such a direction that it reminds itself again. According to the President of Russia, there is no ideological confrontation between the United States and the Russian Federation.
What did you manage to agree on?
It is stated that a communication channel has been established between the special services of the two countries. First of all, this channel will make it possible to work more effectively in the format of countering terrorism. The President of Russia noted that this channel gave its fruits during the World Cup 2018 in Russia.
Putin:
We handed over to our American colleagues proposals on cooperation in the field of security and on the non-proliferation of nuclear weapons.
It was noted that special attention was paid to the Syrian issue. Putin said that after the complete destruction of the centers of resistance of militants in the south of the SAR, it is necessary to reduce the situation to the implementation of international agreements on the 1974 year (talking about the border of the SAR and Israel and the status of the Golan Heights).
Putin:
This will restore security, cease fire between Israel and Syria and reliably ensure the security of Israel.
The Russian president noted that he expressed satisfaction with the US agreements with the DPRK and expressed concern over Washington's withdrawal from the nuclear deal with Iran.
Trump, in turn, noted that he had talked with his Russian counterpart about "Russian intervention in the American elections," against the background of which the creation of a joint cybersecurity group was discussed.
Trump:
This meeting was a turning point in the relationship.