Chinese "mountain tank" entered service with the Marines?
An image of a secret Chinese "mountain" appeared on the web
tank
"In marine camouflage, reports
Rossiyskaya Gazeta
.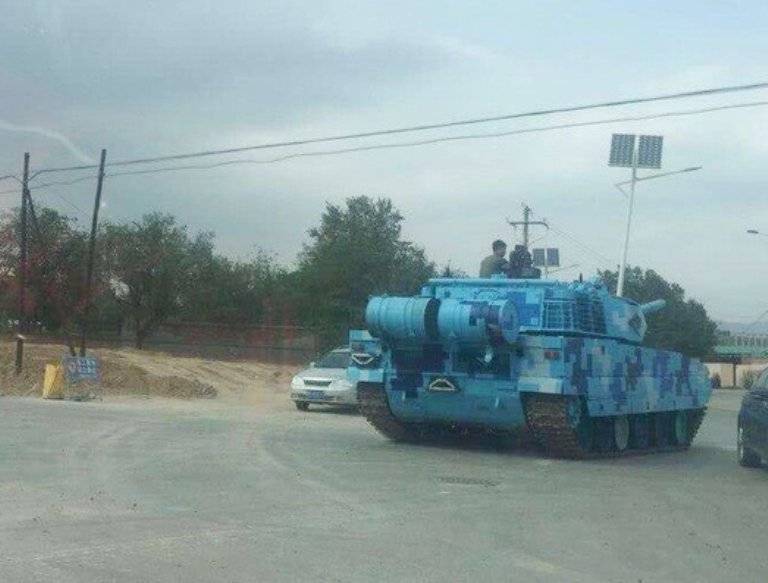 Previously it was thought that the new tank was designed for use in highlands. This assumption of experts confirmed the pictures taken during the test machines in difficult areas of Tibet. It is not surprising that in various countries, the novelty has been rushed to call the "mountain tank."
The first data about this car leaked to the press in 2012 year. However, there was very little information, all the characteristics of the tank are still classified. The estimated designation of the tank - ZTQ-15 - not officially confirmed.
According to the latest data, the weight of the machine is about 35 tons. She is armed with a 105 mm caliber cannon capable of using sub-caliber ammunition, the armor penetration of which is about 500 mm.
The turret mounted installation, combining 12,7-mm machine gun and 35-mm automatic grenade launcher.
The tank is equipped with a fire control system with thermal imagers and sensors for firing conditions.
Car booking is enhanced by dynamic protection and lattice screens. Chassis - six-bearing, engine power (presumably) - 1000 hp, speed - more than 70 km / h.
To date, an export version of the tank has been created on the basis of the ZTQ-15, which is exhibited at various
armory
salons.
https://twitter.com/KomandanteS17