The meeting between Putin and Trump has begun. Helsinki exchange?
In 14: 10 in Moscow, the first official bilateral meeting of the presidents of Russia and the United States began. The meeting takes place in the presidential palace Helsinki. Vladimir Putin was the first to take the floor and noted that this is an important meeting, during which it is planned to discuss a wide range of issues. The Russian president didn't talk about what exactly these issues would be.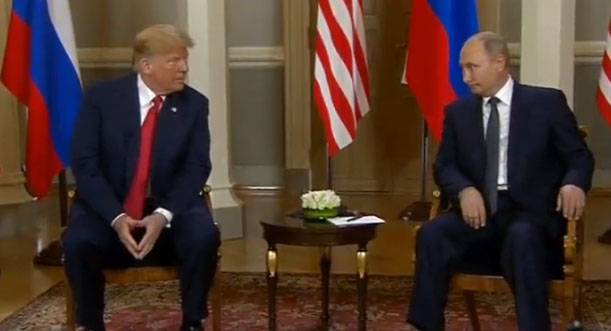 After that, a much more extensive introductory speech was made by Donald Trump. First, he congratulated the Russian leader on the excellent organization of the World Cup, which ended on the eve of the final match in Moscow. Then he identified the very questions that the Russian president mentioned in passing. In particular, according to Trump, the presidents intend to discuss issues of a military nature - first of all, issues of probable nuclear disarmament. According to the American president, the United States and Russia have huge arsenals of nuclear
weapons
that make up the 90% of all nuclear arsenals in the world.
Trump during the opening speech noted that the discussion will touch on issues that are related to the People's Republic of China. At the same time, the American president did not specify what exactly will be discussed in the framework of the "Chinese theme". However, literally at the same time as Trump's speech in Helsinki, a statement was made by the Chinese authorities that official Beijing is filing a lawsuit with the WTO over the introduction by the American side of 25-percent duties on hundreds of Chinese goods. We are talking about duties on more than 1,3 thousands of goods that the US imports from China.
Before the start of negotiations with President Putin tete-a-tete, Donald Trump said that he intended to discuss the issue of Ukraine.
Then the staff of the two presidents and their Finnish colleagues asked the journalists, who vied with each other to try to ask the leaders of the Russian Federation and the USA to leave their questions. Only the heads of state and their translators remained in the meeting room.
Meanwhile, the Western media published statements by representatives of US political circles, who expressed concern that Putin might "charm" Trump, and he would make certain concessions.