Russian Foreign Ministry - Poland in the case of Tu-154: Stop demonizing Russia
The Ministry of Foreign Affairs of Russia responded to the allegations that are being heard from Poland about the failure to provide the Polish side with fragments of the presidential Tu-154 crashed near Smolensk. Warsaw, we recall, said that Russia is obstructing the investigation by the Polish commission headed by Anthony Matserevich, the former defense minister of the country.
В
Russian Foreign Minister
they note that they were bewildered by the claims of the Polish side about the so-called "re-investigation of the catastrophe".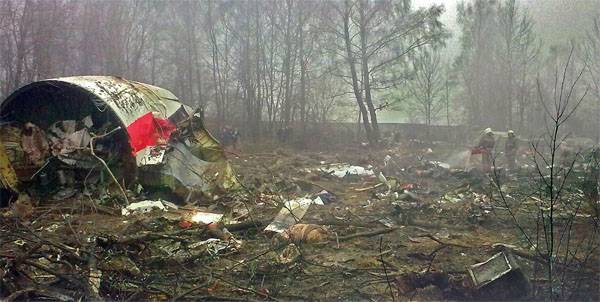 From the message of the Department of Public Relations of the Ministry of Foreign Affairs of Russia:
The subject of speculative speculation is the theme of reconstruction of the crashed airliner from fragments collected at the site of the tragedy. Outraged by the fact that we are satisfied with a rough public demarche against the background of normal business interaction between the competent authorities of Russia and Poland on the Smolensk dossier, which are in close contact, within the framework of the mechanism of legal assistance, they exchange materials and agree on the terms of a visit by Polish experts to the crash site for further study fragments of the presidential Tu-154M.
In other words, the Polish side is misleading above all its own citizens. In fact, the contacts of the Russian and Polish colleagues dealing with the crash of the Tu-154 near Smolensk are not curtailed, as Poland is trying to exhibit. The Ministry of Foreign Affairs of Russia notes that Poland, in any actions of Russia, is trying to carry out attempts at demonization and to hang up loud accusations of incompetence and sabotage.
Russian Foreign Ministry:
It is time for officials in Warsaw to finally stop unnecessary exercises and get down to business.
At the same time, the Polish and Russian side cannot agree on the transfer of the wreckage of the airliner crashed in 2010 to Warsaw. The main reason is connected with the fact that every time the Polish authorities try to cast doubt on the conclusions of the investigation, which were previously approved, including by representatives of the Polish investigation team.
Recall that earlier the investigation had come to the unequivocal conclusion that bad weather conditions caused the crash of the Polish side and an attempt to land the plane at the Smolensk Severny airfield, despite calls from dispatchers for the need to leave for the alternate airfield. It was found that in the cockpit was an unauthorized person (commander in chief of the Air Force) intoxicated, which gave the command to the pilots to land in Smolensk.