The most important meeting of the fifth anniversary
We can somehow relate to Donald Trump or to the very need for Russia to strive to improve relations with the United States. But it will still be obvious: the importance of today's meeting in Helsinki is simply impossible to overestimate.
This is probably the second most significant event in the world of international politics since Russia joined the Crimea. And this is not at all an exaggeration, if only because this meeting implies a potential chance, if not to solve the Crimean problem, then at least turn over this page, minimizing for both Moscow the political and economic consequences of the ensuing sanctions war.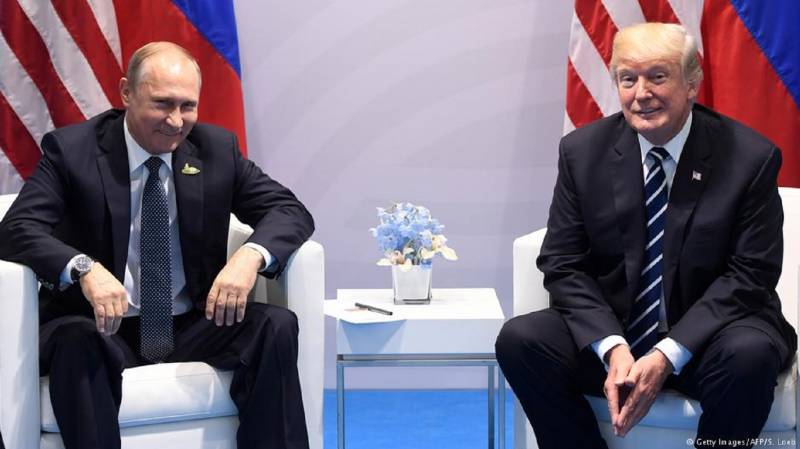 No, let's be frank: the chances that Trump recognizes Crimea as part of Russia are few. Or rather, there are almost none. This is primarily due to the domestic political situation in the United States itself, where any radical decision on the Crimean issue, except for the return of the Crimea to Ukraine, will most likely be greeted with both Democrats and a significant part of the republican political agenda. And hardly Trump can afford such squandering with great difficulty scored political points. He is not such an unpredictable politician as his opponents sometimes try to imagine.
Most likely, we can talk about some kind of compromise solution that can be described by the old formula "neither peace nor war." Presumably, we can talk about the consent of the parties (that is, the consent of the American side) to do everything so that the Crimean issue no longer overshadow bilateral relations. Americans will refuse to recognize the Crimea as Russian "de jure", but "de facto" will agree to stop the sanctions pressure because of the Crimea on Moscow.
However, it is quite possible to expect any additional decisions on Ukraine. No, of course, so far there can be no talk of any political breakthrough in the Donetsk direction. Moreover, no one will officially transfer Ukraine to the Russian zone of influence - this would be too good even for a much later stage of normalizing our bilateral relations. But some progress in the settlement of the conflict in New Russia can probably be expected.
It is difficult to say what exactly the parties can offer each other in the matter of the Donbass settlement. Especially so that it does not look like an obvious defeat of one of the parties. But something can still be assumed.
For the USA and Trump personally, some tangible success is needed. Tangible at least for the media and the American man in the street. And such a visible result of the negotiations could be an agreement on the introduction of some peacekeeping units into Novorossia.
Of course, not on the basis of the Kiev proposals, which differ little from direct occupation. But some more correct option, which Moscow is still satisfied with, can pass.
What can Moscow demand in return? For now, probably not much. But for Moscow, it is still more important not to lose, not to gain. And if, following the meeting, Trump just gives Kiev a good political slap in the face, admitting Ukraine's systematic violation of the Minsk agreements, it will already work for the Kremlin, knocking the ground out from under the feet of European fans to hang all the dogs on Russia. And given the fact that Ukraine has already given plenty of reasons for such a slap in the face, it will even be quite expected.
The recent injections about Trump's attitude to Ukraine hint to us that the ground for such decisions is already being prepared. And the recent performance of Poroshenko in an almost empty hall for press conferences indirectly confirms that Poroshenko himself and the Ukrainian problem in general are pretty much fed up with Europe. European politicians with their sensitive noses feel the future changes in the Ukrainian direction, and it looks like no one is in a hurry to appear once again in the society of the Ukrainian president, who has long become a "lame duck" in a quietly crumbling rural "utyatnik".
However, we must understand that for Trump the topic of Ukraine is not very interesting, since he cannot yet acquire a large amount of political capital on the Ukrainian issue. Therefore, it is likely that the most significant decisions should be expected in the Syrian direction.
Trump has repeatedly declared his willingness to withdraw US units from Syria. And this is entirely in the interests of Russia, as well as its other partners in the Syrian settlement. But it is also obvious that just so Trump will not leave Syria, having tried to bargain as much as possible from Moscow in the Middle East direction.
And Trump's personal interest here is pretty obvious - Iran. Or rather, the withdrawal of Iranian military units from Syria.
We can make such a conclusion if only because Trump does not hide his extremely negative attitude towards Tehran. He emerged from the "nuclear deal" with Iran, has repeatedly called Tehran one of the main threats to American interests, does not hide his desire to reintroduce a full-scale sanctions regime against this country. And besides, this position is fully shared by Israel, whose voluntary lawyer Trump has been advocating throughout his presidency.
For Russia, the issue of the Iranian presence in Syria is not so fundamental: now, when the main forces of the militants are defeated or expelled from the country, and the Syrian army itself has regained high combat capability, Iranian units in Syria no longer have critical military significance. Rather, the question is whether the Kremlin has enough influence on Tehran to convince him to play along with Moscow in a big geopolitical game.
The Kremlin's influence is probably enough. Moreover, Tehran has achieved its short-term goals in Syria, and it may turn out to be expensive even for Iranians to maintain there a permanent military contingent, and even in the face of increasing sanctions pressure. And if we consider that the passage of American anti-Iranian resolutions in Moscow largely depends on Moscow, Tehran's interest here is even somewhat broader than it seems at first glance.
And it is very likely that today we will witness the signing of an important agreement, which will be filed as a grand personal success of Donald Trump. He will also drive his implacable enemy (Iran) out of Syria, and he will take a big step in resolving the Syrian conflict, and the withdrawal of American units from the hot spot will bring it closer.
And Moscow seems to get nothing special from this deal. And it may well be that immediately there will be voices screaming that Trump outplayed Putin.
But the bottom line is that Trump and Putin will act together. And they have a common goal at this stage: replay Trump's American critics and untie his hands in Congress a little.
But then it will be possible to negotiate serious things already.
About Crimea, about Donbass.
And even, perhaps, about Kiev ...