The World Cup in Russia is over. In the final match at the Luzhniki stadium, the French team led by Didier Deschamps won a beautiful victory over the Croatian national team, which for the first time in its
stories
I got to the most important match of the World Cup.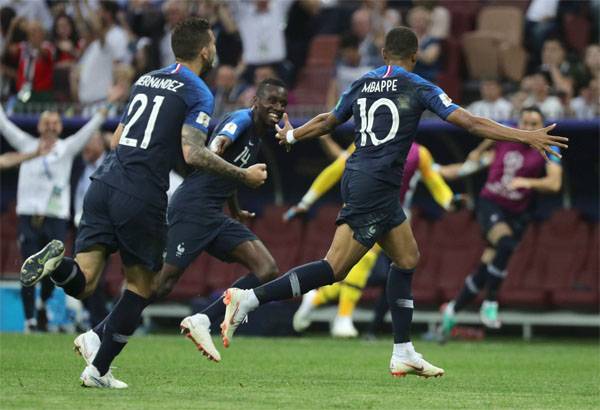 The final score on the board - 4: 2 in favor of the French, who arrived to support the country's President Emmanuel Macron and his wife. The team did not score six goals in the final of the world championship in football from a distant 1966 year, when the British beat the German team with the same score. However, in that match of more than half a century range, the last two goals were scored in extra time.
At the Luzhniki stadium there were almost 79 thousand people among them, including the heads of state: the aforementioned Emmanuel Macron, the President of Croatia Kolinda Grabar-Kitarovich, the President of Russia Vladimir Putin, the President of FIFA Gianni Infantino. It is reported that the President of the Republic of Belarus was also present at the match.
The match was filled with fans not only by the amazing game of the teams, but also by the mistake of the French goalkeeper South Lloris. There was also an episode which, according to the rules of the broadcast, is not paid attention to by television - people rushed to the stadium, moreover in the form of Russian police officers. The girl, who was later taken out of the field of the Stuarts, had officer shoulder straps. She ran to the player of the French national team Kilian Mbappa.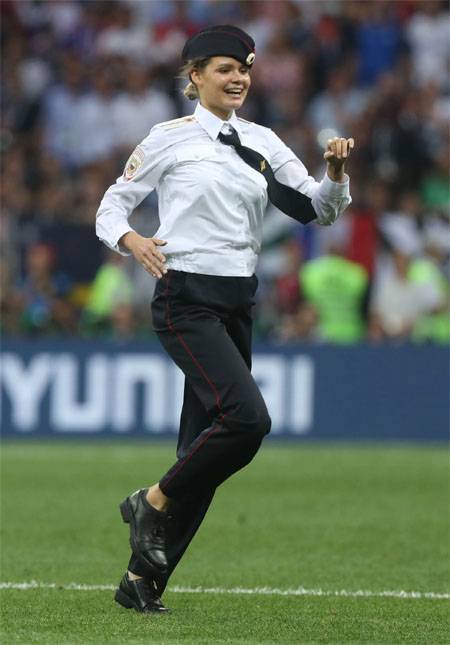 Whether they had run out who had something to do with the Moscow law enforcement authorities was an open question.
The French team becomes the world champion for the second time in its history. And Russia, I would like to hope, remains a huge legacy of this World Cup, which Infantino called the best in history.