The largest Israeli Air Force operation since 2014 year in Gaza
According to a representative of the Israeli Defense Ministry, with 15: 00 14 in July, Israeli territory was subjected to a massive attack. In her direction, according to the latest calculations, more than 100 rockets and mortar shells were launched. Approximately 20 missiles managed to intercept the Israeli Iron Dome missile defense system, the rest exploded in open territory. The military are confident that the Hamas organization stands behind the attacks on the territory of Israel.
The IDF's retaliatory strikes followed immediately and continued throughout the day. In particular, the Israeli military forces attacked the Hamas training base, under which was located the tunnel of the armed wing of this group.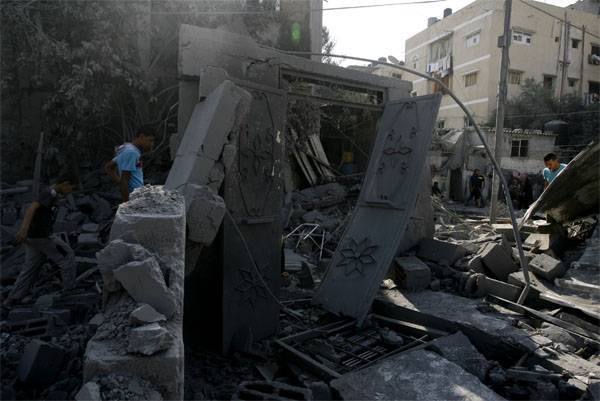 Prior to this, as stated by the Israeli military, 2 of the same tunnel was destroyed (VO reported the day before), a large number of paramilitary facilities, and the headquarters of the Hamas battalion.
In this regard, Israeli Prime Minister Benjamin Netanyahu urgently convened a meeting of the Security Council, which was attended by Defense Minister Avigdor Lieberman, IDF Chief of Staff Gadi Ayzenkot and other representatives of the Israeli secret services and security forces to discuss retaliatory measures. After the meeting, the head of the Israeli government said that Israel was ready to intensify air strikes at any time if Hamas did not stop its provocations.
Meanwhile, a Palestinian official reports that they have managed to reach an agreement on a cease-fire in the Gaza Strip. According to him, the efforts of Egypt have played a positive role in this issue. In the Israeli government, these statements have not yet commented.
Earlier, the Israeli command said that the operation in the Gaza area had become the largest operation of the Israeli Air Force since 2014.
http://www.globallookpress.com