There will be more of us on 10 million, or less on 10 million. And the retirement age should be raised ...
Service of sociological monitoring (Rosstat) on its official
Online
for a certain period of time, it "keeps" a publication with forecasts on the demographic situation in Russia for the period up to 2036. One of the predictions concerns the population of our country by the end of this period. The forecast is divided into three parts: low, medium and high.
Thus, according to the calculations of Rosstat specialists, within the framework of the "low" option, the population of the Russian Federation will decrease by 2036 by the end of 10 by millions of people and will be 136,7 million of citizens. At the same "low" version of the forecast, it is noted that by 2036, the birth rate in the country will fall by about a third and amount to 1,18 million babies. For comparison, during the year 2017, about 1,69 million children were born in Russia.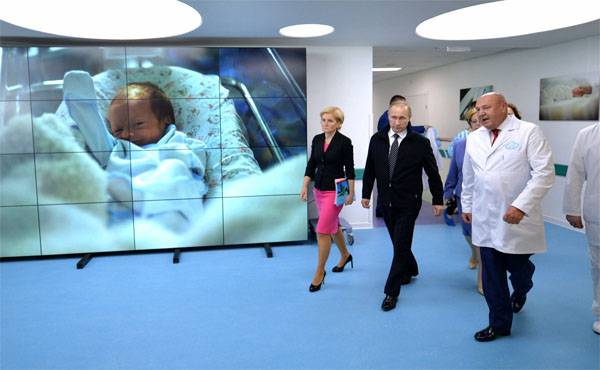 In the "high" version of the forecast, it is noted that the birth rate will slightly exceed the 2017 indicators of the year, making 1,71 million babies. At the same "high" version, the number of citizens of the Russian Federation by December 2036 of the year should be 157 million people, that is, on 10 more than a million more than today.
Thus, even the official sociological monitoring service presents data that are divided by as many as 10 millions in both directions: the population "may decrease" by 10 million people, and "it may increase" by 10 million. are the exact conclusions of the economic plan, which can be used to calculate macroeconomic indicators for 17-18 years? The question is open.
But Rosstat, without hesitation, announces that by 2036, the number of Russians between the ages of 65 and over will "surely grow." According to the "low" version, this number will rise to 6,1 million people, and according to the high one - to more than 12 million. And on this basis, the ideologists of raising the retirement age and report that it is impossible to do without raising the bar. The fact that the population of the country may in the medium term collapse on 10 millions of people, the ideologues of the well-known variant of pension reform are not considering, guided by the convenient forecast that "the older generation will definitely be more." And if all the same will not? ..
http://www.globallookpress.com