Saturday night was not without the use of the Iron Dome. Neighborhood Attacks
Another "wrath Friday" in the Gaza Strip led to open armed clashes. The Israeli command claims that representatives of the Hamas militant wing attacked Israeli territory with mortars and unguided rockets. In addition, dozens of burning balls were released into Israeli territory. The Iron Dome missile defense system intercepted six missiles. At the same time, there is no data on what the total number of missiles fired at Israel was.
In response, Israel used the full power of its armed forces, launching a series of attacks on targets in Gaza. It is stated that the so-called "tunnels of terror", which were designed to prepare Hamas and transfer them to the Israeli borders, were destroyed.
Israeli air attack in aid
drones
equipped with tear gas canisters.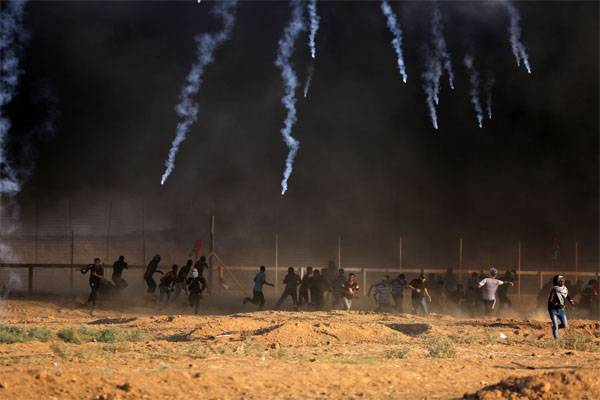 Several Hamas military facilities have been destroyed.
Israeli territory was subjected to shelling from which the protesters of the Palestinians launched the very "fireballs".
As you can see, the strikes are applied directly to the neighborhoods of Gaza:
We are talking about blocks east of the refugee camp "Al-Burey" in the very center of the sector. Referenced Witnesses
SkyNews
reported that an Israeli aircraft fired several missiles on agricultural land in the Rafah area.
At the same time, the press service of the Hamas movement stated that the Israeli military were broadcasting a lie, stating that the Israeli Air Force attacks were a response to the actions of the Palestinians. If you believe the Palestinian side, then it was Israeli troops who first attacked the territory of the Gaza Strip, after which they launched missile strikes at Israel. It is noted that as a response, up to 30 mines and missiles were fired. No injuries are reported from either side.
http://www.globallookpress.com