Roll on 152. What backlog left the Soviet designers for "Almaty"
There is information in the press that UralVagonZavod (UVZ) decided to continue research in the field of implementation
tank
with a smoothbore gun of caliber 152 mm. The basis for this kind of research is still the Soviet tank project "Object 195", aka "Improvement 88", aka T-95. The main military department ceased financing of further work in this direction, but, according to some sources, UVZ decided to continue the research in the order of "bare enthusiasm", according to others, public investment still did not run out completely.
Because of the veil of secrecy, for obvious reasons, there is no comprehensive information about the research, but the fact remains: the main direction of research in this area is related to how expedient it is to give the Armata T-14 the 152 mm gun, thanks to which opportunities could be seriously enhanced.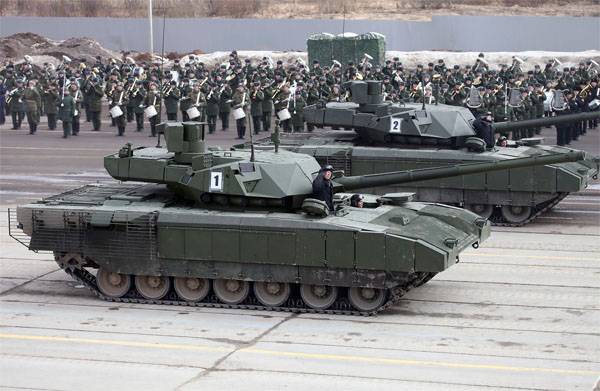 By and large, that version of the T-14 "Armata" tank, which is in operational combat operation practically in single copies, is in many ways a development of the very "195 Object" with an uninhabited tower and a fighting vehicle isolated in a special armored capsule .
Experts note that by implementing the T-14 "Armata" with the 125-mm gun, the plant may well create an 152-mm modification. Here we consider the prototype "Object 292" with a gun LP-83 caliber 152 mm. This is the brainchild of the Kirov Plant (Leningrad, USSR) and the Transmash Research Institute. As a base, they then decided to use the modification T-80BV. Why didn't the tank go into the series? Everything is trite - the beginning of 90-x, an acute shortage of funds not only for defense, the collapse of the Soviet Union, the thesis "We have no enemies, there are friends all around."
However, an experimental machine was created, the technology has not been lost, but whether sufficient amounts of funds will be sought this time is an open question, especially in connection with a certain reduction in the defense budget recently.
It is noted that the implementation of the T-14 "Armata" modification project with an 152-mm gun will ultimately lead to the actualization of the use of modernized versions of the Krasnopol adjustable ammunition of the corresponding caliber.