During the expert debate on the fields of the NATO summit in Brussels, the floor was given to the President of Ukraine, Petro Poroshenko. And the Ukrainian "national leader" could not deny himself to shift the responsibility for all recent Ukrainian failures to Russia. Poroshenko said that he acted almost with his hands tied, as "the officers and agents of the FSB flooded Ukraine."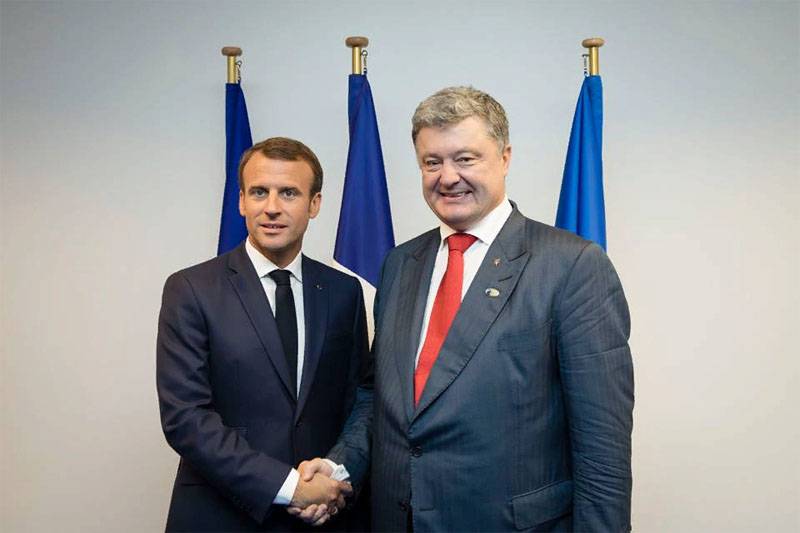 From the statement Poroshenko:
We have a Russian FSB across the country.
Further, the President of Ukraine called on NATO members to consolidate in order to "resist Russia."
From Poroshenko's note, with which the French President Emmanuel Macron spoke:
In a conversation that took place during a working visit to Brussels to participate in the events of the NATO summit, they also discussed the security situation in the Donbas and agreed on further steps to ensure the implementation of the Minsk agreements and the introduction of a UN peacekeeping mission.

Our common position is that it is necessary to intensify the negotiation process in the Norman format.
In the meantime, Poroshenko is in Brussels, Ukraine is discussing the question of when the approved tranche of 1 billion euros will reach Kiev from the EU. If at first they expected that the money would arrive in August, now it became known that the receipt would take place only in the autumn.
Against this background, reported problems with Ukrainian Eurobonds. In an investment company
Capital Times
says that the yield on debt obligations of Ukraine reached a psychological mark in 10%. In other words, buyers of bonds issued by Kiev receive 10% profit from Ukraine for "investments". According to economists, this is a very high percentage, which already leads to the fact that the Ukrainian state is not in a position to pay out all the Eurobond holders of their profits. But, the authorities of Ukraine, it seems, does not particularly care - they know that the default will not be announced even if Kiev finally finishes its inability to repay the debt?