USC is completing work on the repair and modernization of the anti-submarine ship "Fearless" of the 11540 project (code "Hawk"). As stated in the corporation, it is planned to transfer the ship of the Russian Navy at the end of this year or at the beginning of the next, Izvestia reports with reference to the Main Board of the Navy.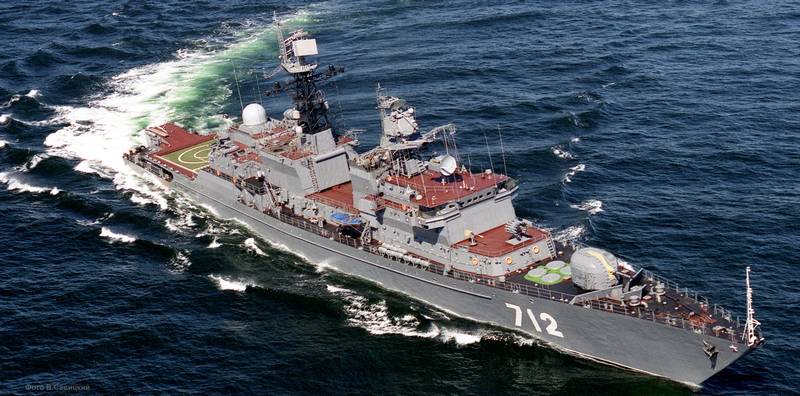 As reported by the Main Command of the Navy, at present the installation of the main systems is completed on the ship and adjustment work is underway. The Fearless, who has gotten up for repair in 2014, has undergone a major upgrade. On the ship were repaired all major systems - fuel and electric. The repair of corridors and combat posts, as well as most of the cabins. Completely replaced the lighting system. Upgraded systems for fighting for the survivability of the ship - drainage and fire prevention. Also, the repair of many hidden defects that occurred during the twenty-year operation of the frigate. The ship has the latest communications, navigation and weapons systems. Most of the problems arose during the repair of the main power plant of the frigate. As the afterburner, it uses two gas turbine units of Ukrainian origin. Due to the rupture of economic ties with Ukraine, repairs were made at an aircraft factory in Samara.
To date, the Russian Navy has only two frigates of Project 11540 - Undaunted (part of
fleet
in 1993) and Yaroslav the Wise (in 2009).
The Fearless is the lead patrol ship of the 11540 "Hawk" project, built on the Yantar in 1993. Designed for searching, detecting, tracking and destroying enemy submarines, for anti-ship and anti-submarine defense of warships and ships at sea, attacking underwater and surface targets at sea and bases, supporting ground forces combat operations, providing landings, and also for covering naval forces. Included in the Baltic Fleet.