In the rocket and space industry, they are working to solve the problem of flooding the Russian airlock Pirs of the International Space Station. The task is to undock the Pirs from the ISS, reduce it from orbit and then follow the path, which will eventually lead the airlock to the Pacific Ocean.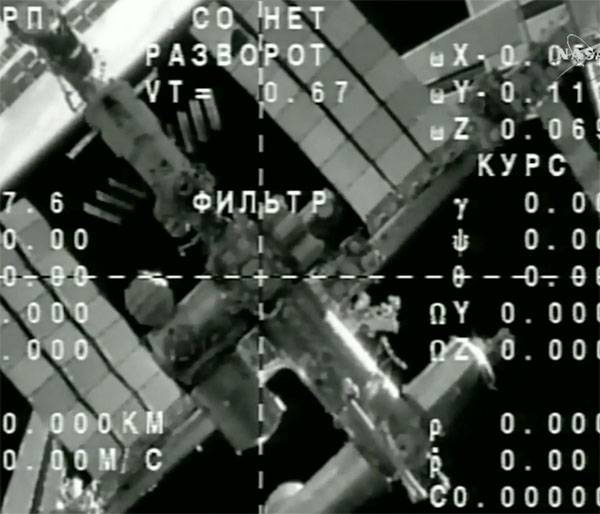 The operation is scheduled for next year. The creative approach of developers to the implementation of the very idea of ​​flooding the compartment draws attention, which will eventually be replaced by another one. The fact is that the developers are planning to launch a Progress MS-12 space truck to the ISS, which was called Gerasim. This "Gerasim" will eventually have to be flooded in one of the compartments of the International Space Station. Compartment in another famous character works of Turgenev has not yet been renamed ...
RIA News
with reference to sources, it is reported that the launch of "Gerasim" is planned to be carried out no earlier than April of 2019. Some time after the docking with the ISS, procedures will be carried out for the docking of the Zvezda module to the airlock Pirs compartment. And in the autumn of next year, the launch of a new module "Science" was originally planned. At the same time, the issue of sending "Science" to the ISS has not yet been resolved.
For reference: "Science" is being designed in the Khrunichev Center and should be one of the most voluminous modules of the ISS. At the same time, the module according to plans must ensure not only the performance of scientific experiments, but also serve as a means for docking ships and modules. In addition, the module "Science" should provide storage of goods, as well as the transfer of fuel.
Initially, the delivery of "Science" to the ISS was scheduled for another 2011 year, but technical difficulties intervened. Now the main question is the expediency of sending this module, because the life of the entire ISS expires in 6 years, and the minimum "warranty period" for the Nauka module is seven years.