This year, the Institute of National Memory of Poland recommended local authorities to dismantle 75 monuments, including monuments created in honor of the Red Army soldiers, Soviet partisans and prisoners of war, reports
Kommersant
.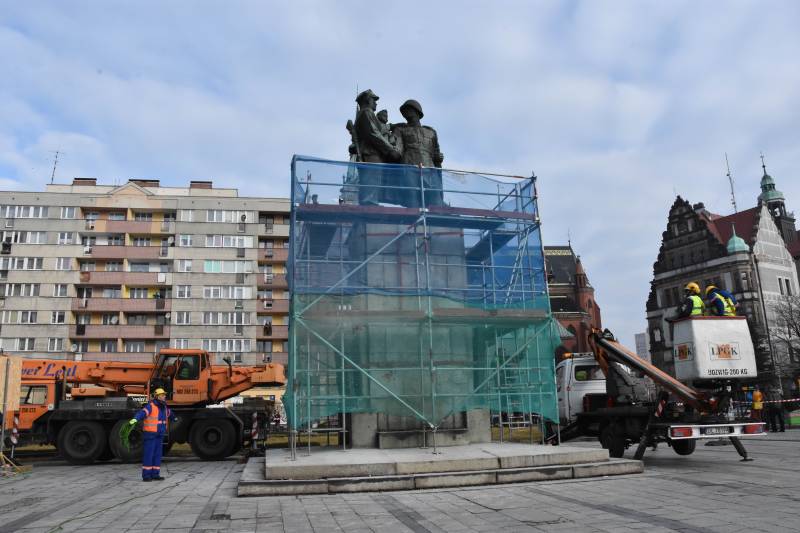 Dismantling of the monument "Two Ivan" in the city of Legnica.
In recent years, after numerous battles, representatives of different branches of the Polish government agreed that the monuments to the soldiers of the Red Army, if they were built in cemeteries or single graves, deserve care and protection. These are the "correct" monuments.
Those that stand outside the cemeteries are "wrong" because they already carry the communist ideology to the masses. Such monuments in the country is not the place, they must be dismantled.
Mainly in the mentioned list are the monuments of the Red Army, although, as the newspaper found out, among them are monuments dedicated to Polish soldiers. One of them has already been demolished in the city of Legnica. The monument depicted two soldiers, Polish and Soviet, holding a little girl in their arms. Residents called the group sculpture "Two Ivan", and even opposed its demolition.
The publication reminds that during the Second World War on the territory of Poland, according to various estimates, from 1,3 million to 2 million Soviet citizens perished. Of these, more than a million are prisoners who died in concentration camps.
In total, there are about 700 graves of Soviet soldiers in Poland. Since 2014, 42 memorial sites have been dismantled in the country without notifying the Russian side. According to the head of the representative office of the Ministry of Defense of the Russian Federation on the organization and conduct of military memorial work in Poland, Alexei Fomichev, the arguments of the Russian side and personal contacts do not bring results.
Meanwhile, despite the fact that the cost of caring for monuments lies on the Polish side, the Russian embassy has been investing for many years, including in their overhaul. So, in 2010 – 2016, Russia allocated almost $ 5,5 million against $ 2,1 million allocated by the Polish authorities. This year, the Russian Federation allocates $ 534 th.
We try to work so as not to return to repairing these memorials for at least 25 years. But all the cemeteries can not be repaired immediately,
noted Fomichev.