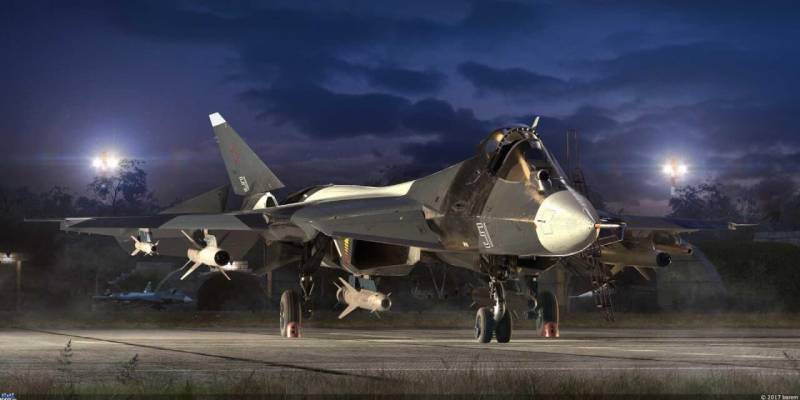 Interesting things happen in current mundial times. It is good that he, the world championship, once in four years. More often the psyche would not have survived. Although perhaps this is just a coincidence.
However, the coincidence that we want to talk about is unpleasant. However, troubles are quite common today. Especially in the performance of high officials and deputies.
State Duma Deputy Vladimir Gutenev. Not easy to say / vote, no.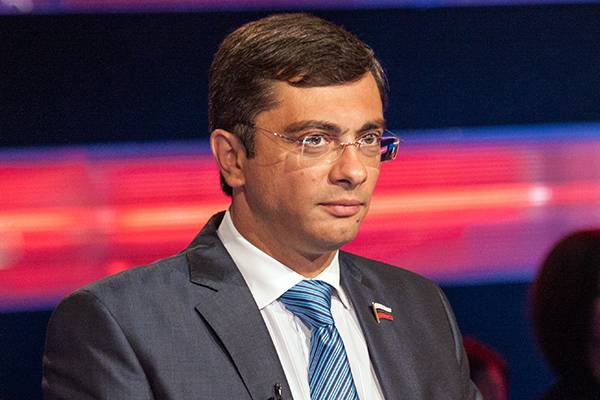 The head of the State Duma commission on legal support for the development of defense industry organizations, the first vice-president of the Union of Mechanical Engineers of the Russian Federation, a member of the expert council of the State Duma on
aviation
industry.
In general - a person in a very important post. In an interview with Interfax-AVN, Vladimir Gutenev, with reference to the speech of Deputy Prime Minister Yuri Borisov, actually sentenced the very idea of ​​arming the Russian VKS with the latest Su-57 fighters.
Yes, those same Su-57, which for so long were PAK FA, now, it turns out, are simply not needed. Or they have no money, which is basically the same thing.
Next we give quotes from Interviewing Gutenev's interview. With comments.
"I largely agree with the words of Yuri Ivanovich (Borisov) about the fact that one can hardly expect massive purchases of Su-57".

"With the undoubted advantages of this machine, we, of course, understand that the start of the program was given back in 2001, and the implementation of the program was delayed for a number of objective reasons (initially planned in 2006 - 2007 to conduct flight tests to the troops), due to the very dynamic development of technologies - this applies to electronic warfare systems, new composite materials, and new capabilities that additive technologies provide in terms of the constructive cheapening of machines. "
Vladimir Vladimirovich, Yury Ivanovich, did we understand everything correctly? Su-57 is not needed in large quantities ... due to the fact that it is outdated?
Many media outlets understood this way. It turns out that we fiddled with the PAK FA, turning it into a Su-57, that now it doesn't seem to be necessary. And our aircraft designers urgently need to sit down ... behind the fighter of the SIXTH generation!
Well, the absolute absurdity.
To date, several fifth-generation fighter jets have been adopted. Specifically - American F-22 Raptor, F-35A / B and Chinese J-20. Good, bad, high-quality, or not - are adopted, that is, they are mass-produced.
Flight tests are a few more fighters: F-35C (USA), Su-57 (Russia), J-31 (China), X-2 (ATD-X) (Japan). Well, on the way several models.
When did it become obsolete?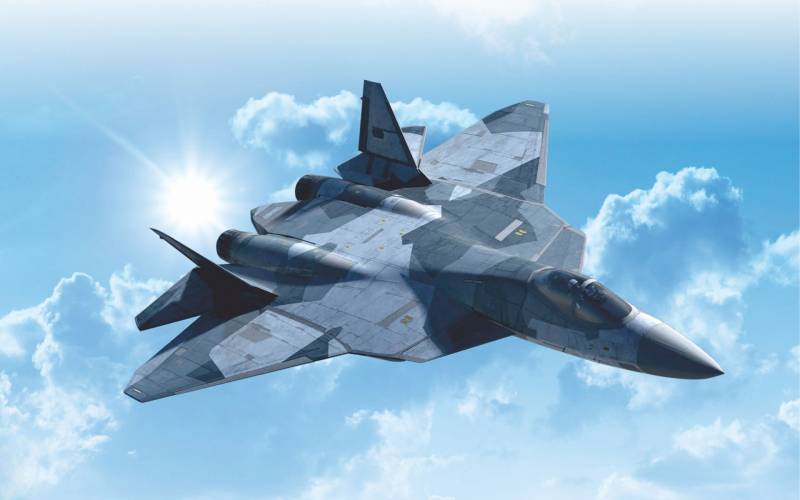 And why did everyone suddenly understand the need to start creating the sixth generation fighter? The fifth has not yet been brought to mind, this is obvious, but it is already necessary to deal with the sixth. Strange at first glance, but if you thoughtfully comprehend the words of Gutenev, everything falls into place.
"I believe that the fighter of the sixth generation will be a transitional machine between airplanes still driven by man and unmanned intelligent shock systems (BIUK) - in this case, we are talking about air BIUK, who can, thanks to their intelligence, perform their tasks, including quite massive groups. "
Delightful. Borisov states that the massive supply of Su-57 to the VKS will not be either at all, or in the next decade (and to whom will they be scared after 10 years, pray tell?), Gutenev begins to tell tales about the fact that Su-57 and not really needed.
"Well, of course, this is due to the fact that we have very sophisticated machines - these are Su-34 and Su-35, which have shown themselves well." "Before the 2023-2024 of the year, the Su-57 is not supposed to install the engine of the second stage, tests of which have just begun, this is the" 30 Product "and, despite the fact that our car is much cheaper (by my estimation, 2,5 times foreign counterparts 5-th generation), but still it is much more expensive and requires more subtle services compared with the Su-34 and Su-35 "."Therefore, I agree with the opinion of Yuri Ivanovich (Borisov), according to which we already have experience when, thanks to a reasonable technical policy, we actually jumped over a generation, largely saving the budget."
This is already "warmer".
And most importantly - it painfully feels like dancing around the Armata platform. That this "wunder", "not having an allegation in the world", a thunderstorm to the whole world hostile to us, thousands of "Armat" will bring anyone to a heart attack, then suddenly "we will order 100 pieces, but we'll see."
As a result, they showed off a dozen in the parade, showed the whole world and ... oops. T-72B3 - our everything.
The same begins (started) around Su-57.
Should translate the words Gutenev? Apparently, he is an honest man. That is trying to wriggle out of an unpleasant situation.
The engine (of that, and not this) on the Su-57 is not. Technicians and attendants either. And, most importantly, apparently, there is no money at all. Absolutely. And to solve the issues of points 1 and 2 have nothing.
Although there is something besides.
"We certainly were able to clarify a number of possible and related data on the ability of F-57 and F-22 to detect our aircraft in the short-term stay in February of this year of our Su-35 machines in Syria - telemetry gave a significant reason to improve them."
Apparently, yes. Apparently, the Su-57 was absolutely not what was expected of him.
Is it possible at all?
Doubt, to be honest. Oh, something, and the planes we know how to do. And Su-57 is at least as good as its classmates.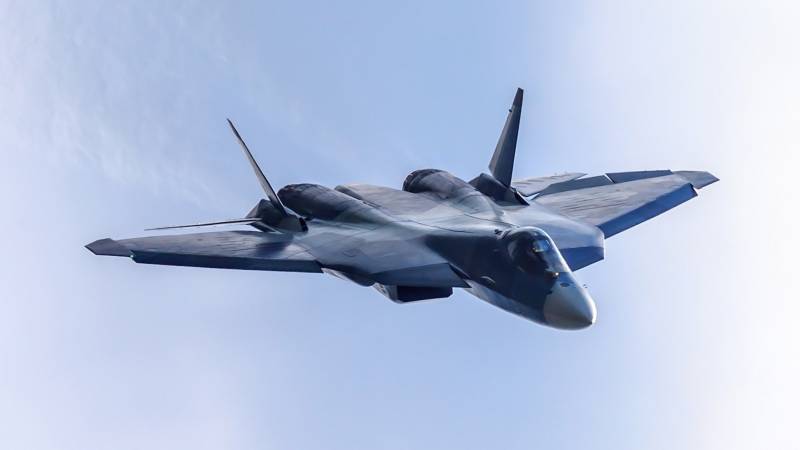 Another question that suddenly turned out to be that 22 and 35 were not so bad as it is considered to be.
That could well have happened. Yes, it is in Syria. It was precisely in conditions close to the combat ones that our specialists suddenly realized that F-22 and F-35 are far from such dull flying vegetables as we all were told.
Why, then, suddenly, such a sharp turn from "we will tear everyone up, our sky" to "and we didn't really want to"? ..
But there is another option. Most unpleasant. We read the words of Gutenev.
"Therefore, concentrating (efforts) on the transitional, 6 generation, it seems to me, would be much more expedient, and the 5 generation should serve in a small-scale version to work out technical tasks that would, on the one hand, capitalize on external costs incurred on this machine, and the other side - to improve the system (advanced aircraft). "
This can be called either the failure of the PAK FA, or a betrayal.
If you discard the verbal husk, then Gutenev says the following: Su-57 in the army is not interesting. The deputy believes that in the interests of the defense industry it would be "enough to simply form an export image of the Su-57 with a second-stage engine."
Just create an export image, and start selling Su-57 to everyone.
"This is an extremely rational and correct approach that provides a balance between the interests of the defense industry complex (MIC) and the customer. This is an absolutely correct and pragmatic solution."
Well what can I say? And nothing.
In the previous article, commenting on the words of Alexander Khramchikhin, we talked about the fact that everything that Alexander Anatolyevich wanted to nurture and build for the army and
fleet
, may be simply unnecessary even if absolutely necessary.
Missiles will remain in mines and containers, airplanes at airfields, ships at berths.
And so, literally the next day - confirmation.
We do not need "Armat".
We have enough T-72, which stuffed a bit of electronics and called it T-72B3. "Armata" can be sold to those who can pay for it. While it is "export attractive."
We do not need T-90.
Therefore, we have their 350, and the Indians 1000. India was able to pay. And now get Egypt and Kuwait. 500 and 146 pieces. Because they can afford it.
We do not need C-400 (and C-500 is hypothetical)
, because C-400 want those who can pay for them. And do not care that this is a country from the NATO bloc. Dollars in Turkey are the same as the Indians.
We do not need Su-57.
Enough Su-34 and Su-35. Luxury planes, they still fly and fly. And Su-57 can be ... right, sell. Those who do not have the opportunity to develop, but there are dollars. Bahrain, Qatar, Saudi Arabia ...
And in general, we have to look there, in the bright distance. Where our football team will be the world champion, our politicians, honest and adamant, will lead us to a beautiful and rich life, income will be higher than in the rotted and collapsed States, and so on.
The main thing is not to see that the once great country is beginning to turn into a street market where you can buy everything to go: everything: honor, conscience, law, oil, gas, the latest developments in science and technology.
Many will say: well, purely Ukraine.
Yes, we will agree. They also know how to tell stories about supertanks. And tell. And people believe that T-84 will break Armata.
And where should they go?
So we will probably believe that we do not need the Su-57. We deserve immediately fighter 6-th generation of the Su-109. Which, probably, we will develop on the money obtained from sale of Su-57 to everyone. And perhaps nothing in this is reprehensible. The USA trade in all their equipment.
But why such a nasty taste in the mouth and strange words in my head are spinning? Ukraine, Somalia, Sudan ...
Quotes source: Interfax interview.