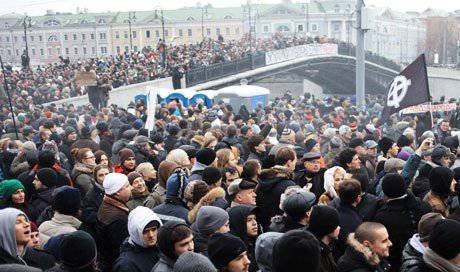 The last opposition actions, in my opinion, testify that the protest movement, the so-called. "Creative class", which peaked in December last year, has by this time largely exhausted
If the country's leadership does not take fundamental decisions, protests will begin with a completely different kind
However, a more important point in understanding what happened during these holidays is the progressive desensitization of both the protest model itself and the tremendous efforts that the government spends on fighting the so-called. "Oranzhizmom". In general, it seems that the elements of the pair "Orangism" - "anti-orangeism" cannot exist without each other, since one is needed to justify the other. Secondly, they distract from the real problems of the country's development. And, at the same time, even if the "Orangeists" do not want it, in the situation of not making fundamental decisions by the leadership of the country, protests of a completely different kind are close, which Pushkin described as "Russian revolt, senseless and merciless".
When mass riots in London were discussed last year, at first commentators walked along a hackneyed road: they say, migrants and representatives of lower classes and social groups revolt with nothing to do. But it turned out that the situation has a completely opposite character: then prosperous citizens, who were at the forefront of these protests, took to the streets. And already the bulk of the protesters followed this very "creative class". That is, the latter created models and action patterns for the less socially active population. And if the first, roughly speaking, had fun, then the latter have already tried to realize their real interests.
Opposition can only be considered as those who can offer an alternative model of development.
The current Russian "Protestants" (no matter whether they understand it or not) set such a model, which, if an embittered people really take to the streets, will result in extremely unpleasant consequences for everyone. From here there is one very simple recipe for power. The problem is not "oranzhizme" or "antiorangement." This is a false dichotomy, which had a purely election sense. Such a protest model only drains and weakens the country, it does not have a constructive focus. The country needs not just reform or modernization, but revolution. For a quarter of a century, we cannot approach the solution of overdue problems. It's about creative revolutions. To be precise, our movement promotes the idea of ​​seven revolutions, among which we can single out demographic, industrial, technological, town planning and anthropological, as well as a revolution associated with the accelerated development of the Far East and reintegration in the post-Soviet space.
In fact, the opposition can only be considered those who can offer an alternative model of development. If we look at the updated "Strategy-2020", which was developed by order of the government, then this is essentially an extremist neoliberal model. It is precisely what the leaders of the opposition, who go outside, propagandize. That is why they have no relation to the real opposition. Rather, it is such a form of pressure on power in order to realize the vested interests of individual factions of the elite. These people cannot offer any alternative model of socio-economic development.