In Ukraine, they continue to "flirt" with the nationalists. In the Kiev National Museum
stories
Of Ukraine hosted the opening ceremony of the exhibition "Fighters for the Ukrainian State" dedicated to the 111 anniversary of the birth of the head of the Ukrainian Insurgent Army (UPA) Roman Shukhevych banned in Russia, as well as the Act of Proclamation of the Ukrainian State concluded with Hitler Germany.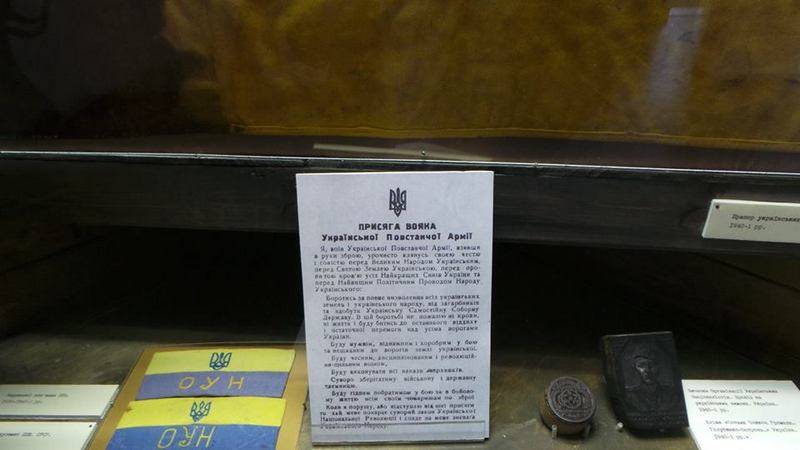 The exhibition organizers said that it will be presented "miraculously surviving rarities" and will be revealed to the UPA "from an unusual angle." Director of the National Museum of History of Ukraine Tatiana Sosnovskaya said that the exhibition is intended to show the stages of the UPA's heroic struggle with the "Hitler and Stalin totalitarian regimes", and the son of Roman Shukhevych who was present at the opening was Yuriy Shukhevych, an ardent nationalist, who called upon "to visit this exhibition dedicated to the restoration of Ukrainian statehood. "
Assistant Shukhevych tried to "smooth out" the words about "restoring Ukrainian statehood", explaining that the Act signed on June 30 of 1941 with Nazi Germany was not an act of subordination of Ukraine to the Nazis, because "independence of the Ukrainian state was later recognized by Romania and Croatia".
Here it is necessary to clarify that we are talking about the act of proclaiming the Ukrainian state, which was signed on 30 on June 1941 in Lviv. It talked about the creation of a state that would closely cooperate with Hitler Germany, like the Ukrainian Insurgent Army.