Dedicated to all demobili that carried heavy service for the good of the Fatherland.
Dembel is not just a status, it's a state of mind of someone who ends his military service in the army or on
navy
. This is a free bird flying home. Like a "tired submarine from the depths." But he can't just take and go home according to the charter, otherwise it will not be a celebration of the soul. Of the part of the soldiers he leaves in normal form, and in his hometown or village he puts on such a demobilic "outfit", which, like the dress for Cinderella, is suitable for one "ball". And this day he will be remembered for a lifetime. A feeling of freedom, the joy of parents and friends, strong hugs and kisses of the beloved girl. By tradition, a soldier dressed with a needle in a new demobilization uniform walks along his native street, meets friends and acquaintances, everyone is happy to see him, everyone admires him and shakes hands with him. A festive meeting organized by relatives and friends in honor of the return of a soldier from the army is a kind of infusion into life "in civilian life".
Demob is only once in a lifetime, and even then not at all.
In preparation for their demobilization, many people do not cope with the desire to decorate their military uniforms. Home must also return beautifully, even with chic. And on long nights in the storehouse or in the recreation room silk aglets are trudging, self-made golden shoulder straps, velvet turn-outs are sewn up, and emblems of the branches of the armed forces are made of needle files. Only a few days of this form are worn in the unit itself, before being fired, near the barracks or in location. It is impossible to wear it for a divorce, since this form refers to non-statutory behavior. It is also impossible to go home in it, since the military patrol has the right to detain a soldier in this form. It remains to add all the beauty in a clean bag and carry in a bag. The real purpose of this form is a memory photo in the army and in the first days "in the civilian world".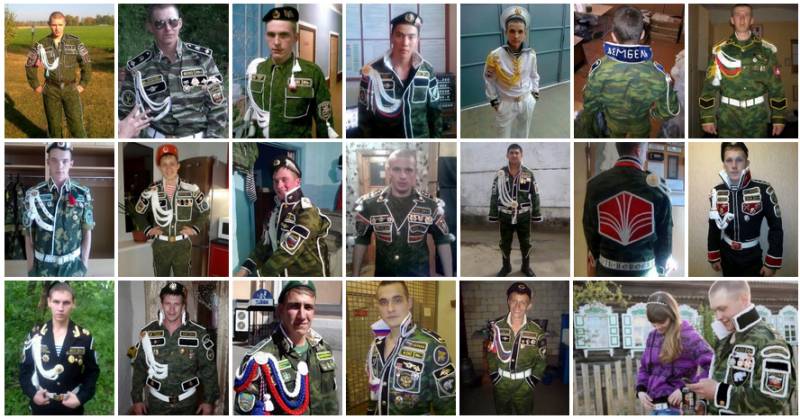 In the Soviet Army, above the parade military uniform, they also excelled with terrible force; they made of it a kind of uniform of the generals of the tsarist army. The jacket and trousers were embroidered, the mattress-stitching onto the collar with indispensable arrows for durability was painstakingly attached to the mattress. And also epaulets, cords, chevrons, badges and other knickknacks were used. Boots acquired laces and tassels, signed the belt, the coat of his overcoat was combed into a centimeter 2-3. They made loops of amalgamated copper, carved plexiglas and brass emblems on buttonholes, chevrons, stripes for trousers. Ironed boots received a "moon shimmer" cover.
In general, the idea of ​​a soldier at the end of the service borders does not know ...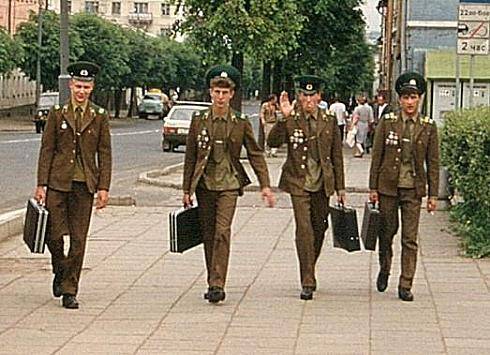 Looking at old photos, you realize that the Soviet demobels are just a sample of the statutory relationship to the form. An elegant "diplomat" in his hands, with souvenirs of a native and demobel album. A little jacket is unbuttoned and a wagon at the back of the head is a demob! And note that no one's hands are in their pockets. They taught once, and there was respect for the form. Yes, inserts were made in a different way. Hemming - cellophane, in many layers, and ironed smoothed. From the cap, we took a spring, cut it and sewed two pieces into the edges of the shoulder strap to give it a shape. You can even in the shoulder straps insert pieces from the sawn hulls of the shot "bumblebees". And who, in a simple way, slightly strapped on the parade and rounded the laces through the red thread, he smoothed his boots with wax on the uniform and worked a little on the heel.

For the upcoming demob, which was inevitable, like the sunrise, the fighter began to prepare almost half a year before demobilization, and this was accompanied by a number of rituals. In addition to preparing the dembel form, an important role played and dembelsky photo album. Previously, it was covered with velvet or just a greatcoat and decorated with sawn copper letters. And if the photo "accidentally" hit something that was not supposed to be photographed, then this caused a particular pride of the album owner.

Demob album
In Soviet times, officers for educational work fought zealously with demobilization to decorate the uniform in parts. Now the practice of embellishment has come to naught due to patrols punishing for breaking the uniform, and commanders in units prohibiting servicemen from mocking uniforms.
Psychologists believe that the desire to "decorate" the form in this way seems to have its own reasons. Realizing themselves as cogs in the mechanism of an army vehicle, the soldiers feel their powerlessness, especially in the barracks atmosphere, after the daily hard work. And the difference among the types of troops in which conscripts serve, where there is more or less prestigious, leaves its psychological imprint. Hence the "inferiority complex" and the desire to compensate for it with something. There is an opinion that those who "
weapon
only held the oath. "
The Defense Ministry claims that the majority of conscripts who have been transferred to the reserve are returning home in uniform. Marines, scouts, marines, sailors, border guards - necessarily. It's a sin not to show off at least a day in front of friends, friends, relatives and neighbors in a blue or black beret, a green cap or cap. And how not to show people their awards and distinctions? Let them see that he served not in vain. Many cherish the attributes of their service for decades. Not a single day of a paratrooper, border guard or navy can do without the mass appearance of former servicemen of all ages and social positions in combat headgear.
"Sewing troops"
For demobels, these are constant reflections on the topic "how to make a demobee form". And demand, as we know, creates supply. Recently, there has been a mass of proposals for the sale of a ready-made dembel-form, made to order for any kind of troops by private studios. Designers meet demobels in a big way, demonstrating their design work on the terms of confidentiality.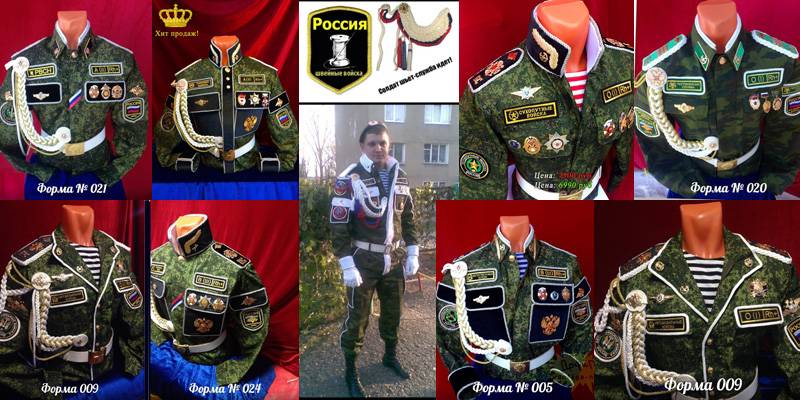 Photo forms to order
But demobil fashion sometimes goes to extremes and can turn a military uniform into a cross between a hussar and a fancy dress. Except as "meaningless and merciless," this fashion can not be called. Such phenomena mean the existence of the needs of ordinary soldiers in that they have a beautiful dress uniform, so that others pay attention to them. At present, there is no such dress uniform, but there are its self-made "variations" that do not meet the requirements of military aesthetics. This current soldier's fashion is popularly called "sewing troops". Its essence is in the presence of a hypertrophied decoration elements on the soldiers' front dress and even everyday military uniform. The form is decorated with rich embroidery with white, blue, red or gold cord. Cockades, buckles and buttons are polished to a mirror shine. High stand-up collars are made with thick hemming up to 1 cm, stitched with large stitches with black thread. Decorated with embroidery Sergeant stitches and places for badges. Boots are cut, shod with steel balls or cut dowel-nails. As a result, we see very vivid examples of such possession with a needle and thread that you understand: in school, in the class of work, boys need to devote less hours to learn embroidery. Some people have the idea of ​​embellishment so much that it affects not only the military uniform, but also the aesthetic perception of others. In addition to Russia, this phenomenon has spread in the former republics, in Ukraine and in Kazakhstan.
Photos from social networks