Kurganmashzavod, which is a manufacturer of infantry fighting vehicles (BMP) based on the Kurganets platform, has published an annual report, from which it follows that the BMP on the new platform will go to the troops for testing in 2019, reports TASS agency.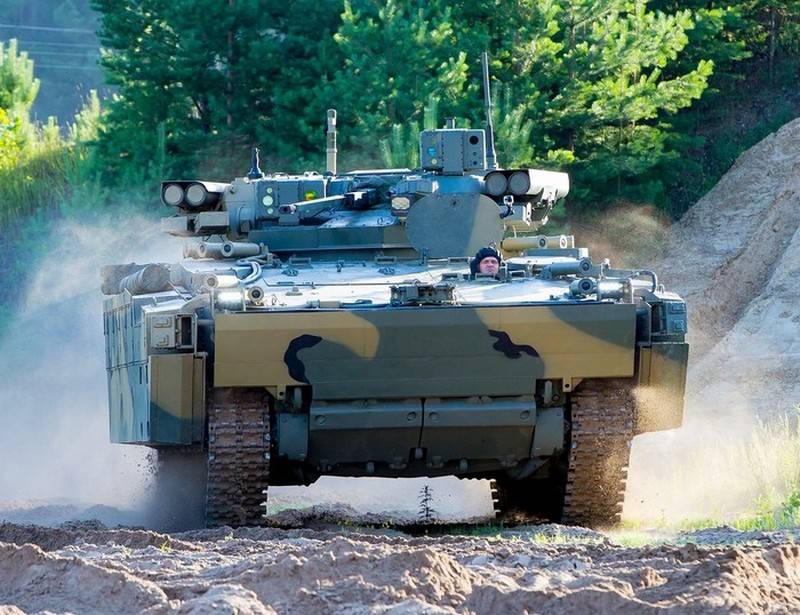 As follows from the document, at present the prototypes of the newest infantry fighting vehicle are "in the works" and are being prepared for "comprehensive tests preceding the adoption of this technology". According to the concluded state contract, the enterprise must supply pilot batches of BMPs based on the Kurganets platform during the 2019-2021 period.
Recall that the development of BMPs on this platform began in the 2012 year, and according to the plans of the developers, the tests of the equipment should have been completed in the 2016 year. Mass production was planned for 2017 – 2018 years. Later, the dates were repeatedly transferred.
"Kurganets-25" is a universal tracked platform, on the basis of which it is planned to create a whole series of vehicles, including the BMP, BMD for the Airborne Forces, the BTR, the self-propelled artillery gun with the 125-mm gun.
BMP B-11 (Object 695) on the platform "Kurganets-25" received the front location of the engine compartment, the crew and troops are in a separate armored capsule, isolated from weapons and ammunition. The crew consists of three people. The troop compartment is designed for eight people. Equipped with a remote-controlled universal boomerang-BM combat module, armed with 30-mm 2A42 automatic cannon with selective ammunition (500 ammunition of projectiles), PKTM 7,62-mm machine gun (2 000 ammunition of ammunition, as well as in the form of a man-on-board).