Britain lost second C-130J-30 Super Hercules in Iraq
The Royal Air Force of Great Britain had to write off the Lockheed Martin C-130J-30 Super Hercules military transport aircraft, badly damaged while landing on an airfield in Iraqi Erbil in the north of the country. The plane crash happened back in August 2017, but was kept secret. Currently, the British Ministry of Defense continues to conceal the fact of the loss of the aircraft, refusing to comment on this incident, but an unnamed high-ranking British military source confirmed the fact, bmpd blog reports with reference to Jane's Defense Weekly.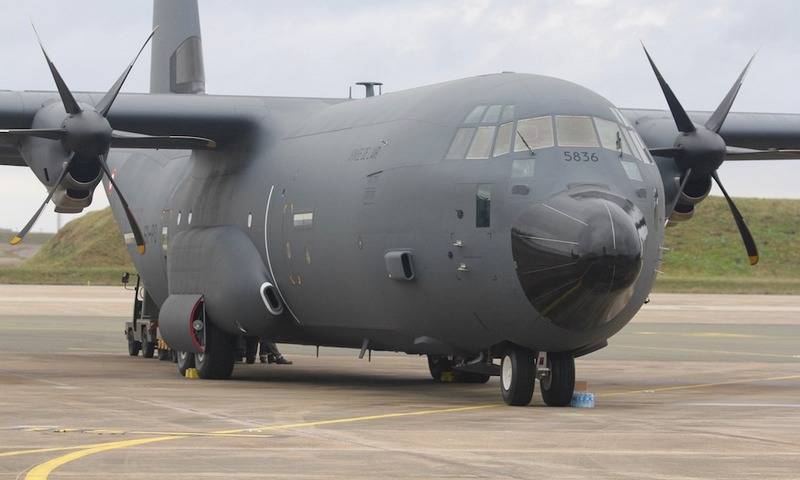 As the newspaper writes, the British "Hercules" was damaged during the secret operations of the British special forces in northern Iraq and in Syria. During the landing on the airfield in Iraqi Erbil, the plane rolled out of the runway and received significant damage. The fighters of the British unit of special operations forces who were evacuated from the territory of Syria who were aboard did not suffer, having got off with a pair of scratches. According to satellite imagery of the area, taken during the period of September 2017 of the year to May 2018, the aircraft was left at the airfield "for eternal parking", removing engines and refueling hoses from it.
Currently, after the write-off of this instance, in the UK Air Force only X-NUMX C-13J-130 Super Hercules from 30, acquired in 25 year, is left. Earlier, in 1994, another C-2007J-130 Super Hercules was lost by the British military in Iraq as a result of a landmine detonation on the runway, and 30 was also written off and sold to various countries.
http://www.globallookpress.com/