Their answer to Putin. US creates "silent" supersonic passenger aircraft X-59 QueSST
The press service of NASA publishes material that in Russia can be regarded as "their response to Putin." We are talking about the ongoing development of a supersonic aircraft, which in the project is designated as "passenger". Recall that earlier Vladimir Putin instructed "to think" about the possibility of restoring production in Russia of supersonic passenger aircraft.
In the US, such work is underway
NASA
and Lockheed Martin. The press service of the United States aerospace agency announced the design name of the aircraft - X-59 QueSST. It is stated that the uniqueness of the development is that this supersonic aircraft is "silent".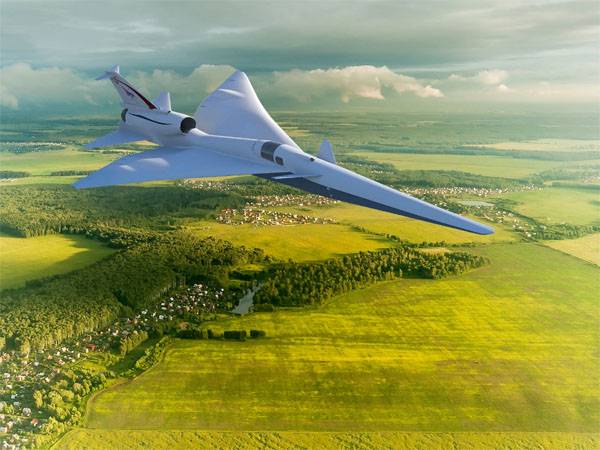 NASA Aeronautics Administrator Assistant Javon Sheen:
I have the confidence that X-59 QueSST is a new step in aircraft construction not only in our country, but throughout the world. The new aircraft will provide an outstanding place among the aircraft we have built.
The name of the aircraft is associated with the American tradition to call the letter "X" experimental aircraft and missiles from 1947 year. In particular, there is a reference to the supersonic X-1. The extended name "QueSST" is an English-language analogue of our "tss", which should show its "soundlessness".
It is reported that the implementation of the project of a promising aircraft is carried out at the Skunk Works enterprise in the city of Palmdale (California). The company is part of the Lockheed Martin structure.
It is noted that when X-59 QueSST flies through the sky, a relatively weakened sonic boom will be heard on the ground (when switching to supersonic sound). Sound impact when switching to supersonic sound will be significantly lower in power than is usually the case with supersonic airplanes. The reason is a special airframe design.
In the material of the press service of NASA stated that the first test flight X-59 QueSST must make in the 2022 year.
According to the latest data, the technical parameters of the aircraft are as follows: speed - up to 1,5 thousand km / h (1,22 M), the maximum noise level on the ground is 75 decibels (a dangerous level begins with 80-ti). The maximum flight altitude is 16,8 km.
NASA's interest in the implementation of this project may indicate that the aircraft will be used not only for civilian purposes.